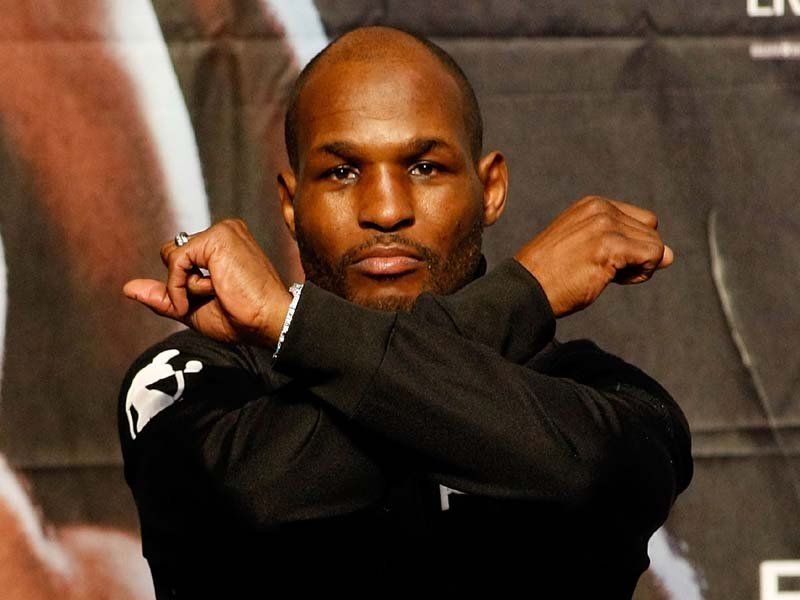 Bernard 'The Alien'  Hopkins (55-7-2, 32 KOs) celebrated his 50th birthday this past January. Usually a fighter who is as decorated in boxing as Hopkins is retired and in the Hall of Fame. Hopkins is neither of the two. He will be inducted in the Hall of Fame for sure but there is still actually goals still for him at the half century mark in age to attain.
It has only been a few months since Hopkins' December world title unification bout with Sergei Kovalev. The heavily favored Kovalev decisively decisioned Hopkins but in the end Hopkins got as much credit for his grand stand in the final round as Kovalev got for defeating him. In round 12 of the bout instead of being tactical and avoiding exchanges like he had done most of the night he engaged Kovalev. It was a valiant effort by Hopkins that had the fans on their feet in the end. Kovalev really put his foot on the gas to try and get Hopkins out of there and for moment it seemed he would become the first to stop Hopkins inside the distance . Hopkins took some devastating shots that would have knocked out many but not Him.  He showed for sure why he is one of a kind.
Critics have been wondering for years  of when Hopkins would get old overnight. Prime example were his fights with Felix Trinidad, Kelly Pavlik and Antonio Tarver. All fights that Hopkins was at least a 3 to 1 underdog or even wider. Sounds crazy now as Hopkins dominated all of those fighters in route to victory. Hopkins issue has never been with his age. He takes real good care of himself and is said to live a very clean life. Even when you see him out and about with no fights scheduled he seems to be in excellent shape. He seems to take a lot of personal pride in his physical appearance. Oddly enough the same style of fighter that gave him issues in the 90s is still the same. Athletic guys have been the ones who have given Hopkins his most difficulties. A prime Roy jones the first fight, Jermain Taylor twice, Joe Calzaghe, and Chad Dawson twice. Kovalev brought something else to the table aside from his punching power. He out thought Hopkins which is an edge Hopkins usually has as his advantage over his opponents. Once that was established the fight was pretty much over. Just a matter of if it were going to the scorecards or not.
This weekend's fight between Kovalev and Jean Pascal could be of great interest to Hopkins if Pascal were to pull off the upset. A third fight between Hopkins and Pascal would be a big fight in Montreal. Their first fight was a draw and Hopkins won the second fight close. Pascal still has not beat Hopkins so there is some unfinished business there. Another option could be with pound for pound light heavyweight king Adonis Stevenson. Coming off of a loss Hopkins may be more flexible in negotiations for a chance to make history winning a world title at 50. Then there is the possibility of dropping down to 168 where Hopkins has never won a world title.  He has nothing else to prove but his nature likely won't all him to retire on that lost to Kovalev.   He just lost to a better fighter in Kovalev. Hopkins has shown no signs of decline in the ring whatsoever. So why should he retire.  Whichever option he chooses next be rest assured it will involve him returning to the ring at 50 to chase history and another world title.
---