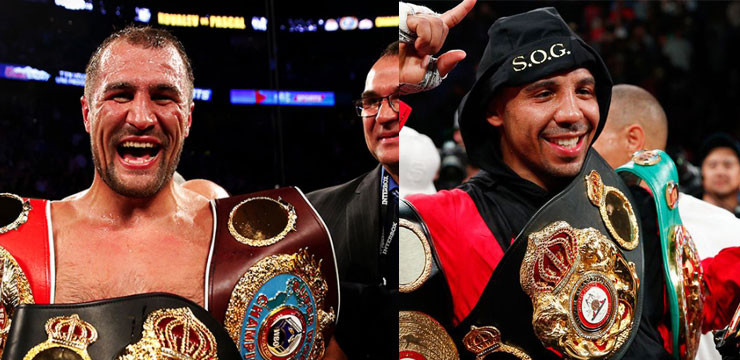 Our debate topic last week was whether the number of cathweight fights of late are a good thing or not. In years past a fighter would move up or down to the weight class of the world champion. The idea was to take that champions title so logically it seemed to fight at the champions weight class. In today's boxing things are much different. The concept now many feel is that the catchweight stipulation is being used to put a fighter at a disadvantage. In particular for when a naturally bigger fighter is forced by contract to make a weight lower than they are used to. The feedback we got was that if the weight was not too much of an advantage or disadvantage for either guy that it was ok. In the case that the bout was a world title fight then normal max championship limit should apply with no catchweight limit.
This week we focus on a matchup that could be a mega fight for the hardcore boxing fans. It would be between undefeated unified light heavyweight world champion Sergei Kovalev vs. Unbeaten Super Middleweight world champion Andre Ward. Floyd Mayweather Jr. retired last month and many have put Ward in as his replacement as pound for pound king in boxing. The only real argument with this for some is that Ward has been extremely inactive due to a promotional dispute. This has been resolved and Ward has since successfully made his return to the ring.
Kovalev has been dominating at the highest level since becoming a world champion at light heavyweight a few years ago. His biggest win without a doubt was his unifying world title win over legendary Bernard Hopkins. Never has anyone dominated Hopkins the way that Kovalev did. Kovalev has pursued a light heavyweight showdown with the division's top guy Adonis Stevenson for more than a year. Each side has their own version of why the fight has not happened. The bottom line is 2015 is nearly over and the fight won't happen this year for sure. Ward returned to the ring this summer successfully defeating former world title challenger Paul Smith. Ward looked extremely sharp in the fight and nothing like a man who has not fought in nearly 2 years. Ward may seek out one more tune-up type of fight which would be fair giving his time away from the ring.
Each fighter in reality does not have any major fights that are looking realistic to happen anytime soon. A matchup between the two would not be pay per view but would do good ratings on HBO which both fighters are aligned to. The first issue would be the weight. Kovalev has stated he would not fight below 175 to fight Ward. Let's assume that Ward agrees and he and Kovalev fought at 175 pounds. Who wins this one? We want to hear from you.
---