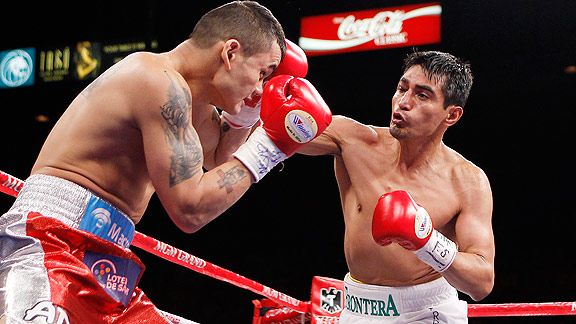 Some fighters just don't know when to hang them up.  Many of them have to be given a forceful shove towards it and most of the time, the push is never gentle.  Four divisional world champion Erik "Terrible" Morales received his suggestion towards retirement from a devastating left hook courtesy of WBC/WBA super lightweight champion Danny "Swift" Garcia in October of 2012.  After the main event fight from the Barclays Center in Brooklyn and broadcast on Showtime, Morales made it clear to Jim Grey in the post-fight interview that he would never fight in the United States again and would look to do a farewell tour in his native Mexico and then call it quits.
Looks like he has reconsidered.
After taking 2012 off, Morales recently announced that he will be facing light welterweight Jorge "Maromerito" Paez Jr in March of next year.  Paez Jr is the son of flashy former world champion Jorge "Maromero" Paez.  Paez Jr is no walk in the park for the thirty-seven year old "Terrible".  With forty-three fights on his record, the twenty-six year old Paez Jr is a tried and true professional who is on a ten fight winning streak.  Seconds after his last fight in late November in his hometown of Mexicali and with Morales on his side, Paez Jr accepted the challenge of the future hall of famer on national Mexican TV.
If a fight with a young, strong and natural 140-147 pounder wasn't dangerous enough, Morales is considering a fall of 2014 face off with none other than Brandon "Bam Bam" Rios.  Obviously in Rios' recent loss to Manny Pacquiao, Morales saw weaknesses that he could exploit and in typical "Terrible" fashion, he would like to go out with a bang.  The risk here is that the bang might be him.
This is not the first time that Morales retires.  After his close controversial loss to David Diaz in 2007, Morales left the ring for a little over two years.  In the meantime, Morales gained weight and enjoyed his family.  He returned with three quick wins over respectable opposition before losing a majority decision to Marcos Maidana in an all-out war.  In his next fight, he captured his fourth title in as many divisions by administering a beating to Pablo Cesar Cano to win the WBC light welterweight title.  He lost it in his first defense against Danny Garcia via a much closer unanimous decision than the score cards reflected.
Then came the Garcia KO.
The bad side of the coin here is that Morales, just like a cat burglar, is only going to get more daring if he keeps succeeding.  There is no denying that a prime Morales would defeat quite easily Paez Jr and Rios.  Morales during his prime was known as a talented and brave fighter with good defense and a better chin while packing a punch with either fist.  More important than that, is his intelligence.  If Morales would to beat both Paez Jr and Rios, there is no doubt that he would believe that he would be ready for more serious opposition and in turn, bigger purses.  He would forget all about retiring.  If that is the case, would it end worse than his second Garcia fight?
---