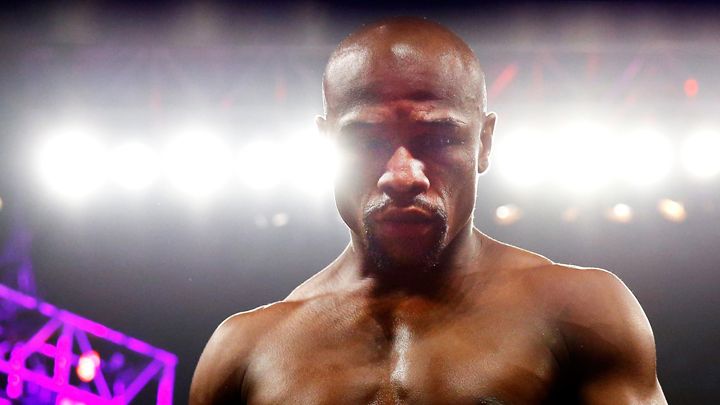 Unfortunately for Floyd Mayweather Jr a story by the great Thomas Hauser posted this week is getting more spins on the boxing turntable than his fight this weekend against Andre Berto.  In the extensively investigated story Hauser revealed that prior to his last fight back in May against Manny Pacquiao, Mayweather Jr was administered an IV.  The IV consisted of saline and vitamins which doesn't sound illegal but according to the USADA, the organization overseeing the cleanliness of both fighters, IVs are against the rules because they can be used to mask or dilute any possible illegal substances that might be in the system.  According to the report, Mayweather Jr was taking in an unusual amount of liquid into his blood stream.
Of course Mayweather Jr has come up with a statement stating the report is unfounded and that he is a clean fighter.  This is not the first time that Mayweather Jr's name has been linked to illegal substances.  There is a story out there that alleges that Floyd has actually come out dirty on a number of tests.  One of the reasons that Mayweather Jr decided to settle out of court when Pacquiao sued him for slander was because it was expected for those documents to be made public.
Ironically in the first round of talks for Mayweather Jr and Pacquiao around five years ago, Mayweather Jr claimed that he was going to clean up the sport and that is why he was requesting for Pacquiao to get tested.  Little did we know that maybe Mayweather Jr should have been the one to be scrutinized?
Like in any other professional sport where millions of money can be made, boxers are no different.  From fighting at an abnormally low weight, to doctoring hand wraps or gloves, all of that has been done more than once in boxing.  It is almost par for the course.
It is almost common knowledge that Mayweather Jr has very fragile hands but one of the reasons that he does not fight out of his hometown of Las Vegas is because the Nevada State Athletic Commission allows him to take Xylocaine shots in his hands which helps him to numb the pain.
Now on the eve of what he claims is his last fight, how much does this story tarnish his legacy?
The fact that he was replenishing himself with vitamins before his fight with what was considered the toughest opponent in quite some time for him does not necessarily mean Mayweather Jr was or is a dirty fighter.  Now, if those other tests results which definitely prove that he has come out positive for illegal substances ever see the light of the day, then it would be a different story.
If he is to retire after his 49th fight this Saturday night, which no one believes he will, and we look back at Mayweather Jr's career will we remember his actual fights or what he has done outside the ring? From the record breaking purses, to his appearances in the WWE and Dancing with the Stars, to his run-ins with the law, to this story?
Just like Roberto Duran is better known for uttering those unforgettable worlds, "no mas", Mayweather Jr might be remembered for other things besides his fights.
---