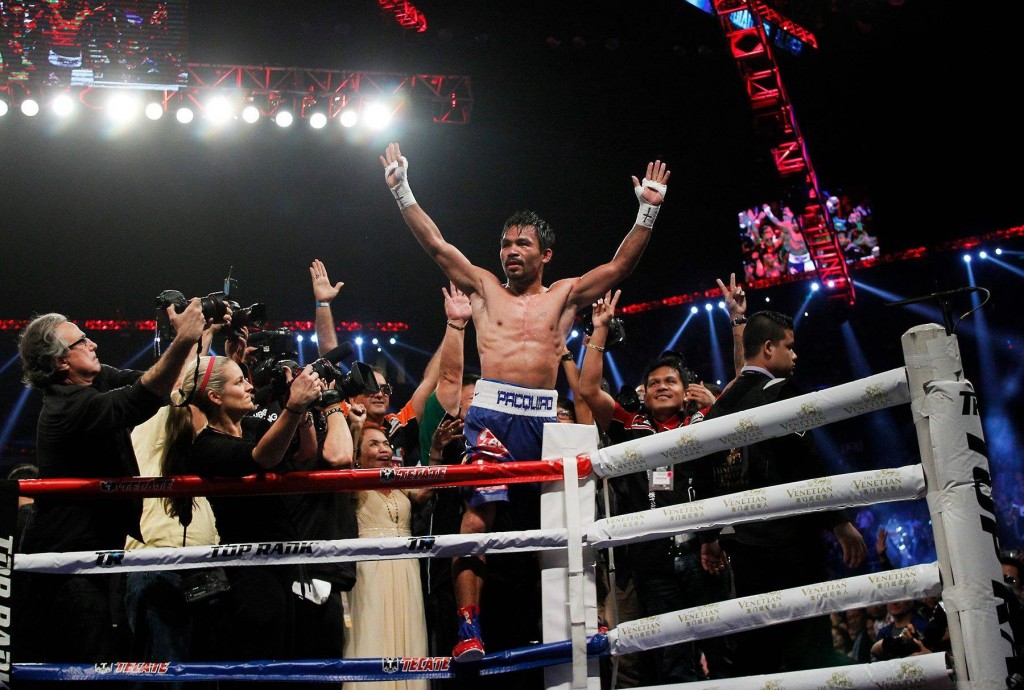 To truly be considered the best, a fighter must fight the best in his division.  No obstacle should stand in his way, no television networks, promoter affiliations or purse percentages.  A fighter who really wants to go down in the annals of history as the best that has ever laced up the gloves, no matter the advice from the those around him, simply just makes it happen.  Pretty much like Apollo Creed did in Rocky II when he insisted in facing Rocky Balboa, the unknown pug from Philadelphia, after battling him to a split decision win that had a taste of a loss at the end of the first chapter of the saga.
As of right now, all real roads for both Floyd Mayweather Jr and Manny Pacquiao lead to each other.
Filipino congressman Manny Pacquiao made his case Saturday night when he proved that neither former world champions like Brandon Rios or current belt holders like Chris Algieri deserve to climb up the four ring steps to face him inside a squared circle.  From the Cotai Arena in Macau, China, Pacquiao proved why he was the fighter of the last decade when he sent a much taller and more technical fighter to the canvas six times in a lopsided dominating performance which saw him win nearly every round with scores of 119-103 twice and 120-102.  Pacquiao displayed his quickness, power and ring generalship in such a fashion that many forgot his brutal knockout loss to Juan Manuel Marquez at the end of 2014 and his controversial one to Timothy Bradley earlier the same year.
Has Mayweather been as dominating?
Can you really call his latest performance against a plodding one-dimensional Marcos Maidana as impressive as Pacquiao against Algieri?  Perhaps but the same cannot be said for his first fight against Maidana where the Argentinean brawler was able to put his hands on Mayweather Jr in the first half of the fight.  Mayweather Jr was awarded a majority decision in that fight.
For the last five years every thing that could be written about Mayweather against Pacquiao has been put on paper or a computer screen.  Fans of each fighter, of boxing in general and casual fans want the fight.  Even the mainstream media has gotten into the act with show store Foot Locker hiring Manny Pacquiao for a spot in which the fight is referenced.
Many say that neither fighter needs the bout to cement their legacy but if you go by Apollo Creed's creed, they definitely do.  Pacquiao's trainer, Freddie Roach, might have hit the nail on the head in a recent interview following Pacquiao's win over Algieri where he shared that if Mayweather Jr doesn't make the fight, he will regret it in the future.  That is absolutely true because if he retires, as he has threatened to do so, after his contract with Showtime ends in 2015, Mayweather Jr will never be mentioned with out an implication of the fight that may never be.
---