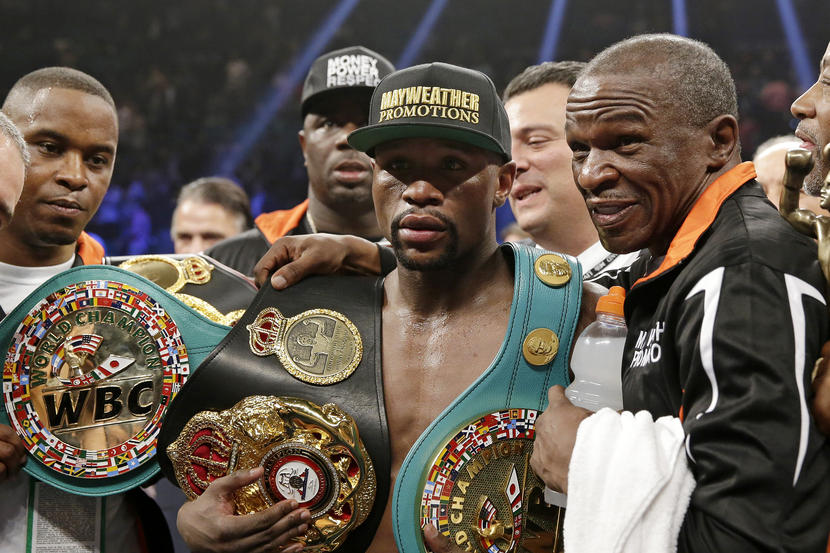 In a surprising move, the World Boxing Organization actually made the right move when it announced earlier that in fact they had stripped the current pound for pound king Floyd Mayweather Jr of the WBO welterweight title that he captured in his last fight. If we remember correctly, Mayweather Jr picked up the strap to go along with his WBC welterweight and WBA super welterweight titles in his win over Manny Pacquiao mast May 2nd in what is considered the biggest money grab the sport has ever seen. Two months later and after various attempts by the organization to cash in their reportedly $200,000 sanctioning fee from Mayweather Jr, they have finally pulled the plug and took their belt back.
In the meantime, Timothy Bradley took a unanimous decision over Jessie Vargas a little more than a week ago to capture the interim version of the title.
In a statement released by the World Boxing Organization, its president Paco Valcarcel stated that despite giving Mayweather Jr two months to pay the sanctioning fees and vacate his other two titles so that he can be the sole welterweight champion of their organization, they did not receive any correspondence from Mr. Mayweather Jr or any of his representatives.
Now Timothy Bradley will be considered the full-fledged champion.
Why would Mayweather Jr hold on to the title?
Because he can.
Although for other lesser known fighters, and in boxing today anybody not named Mayweather Jr or Pacquiao are lesser known, world titles by the four major organization are a big deal, for Mayweather Jr, and Pacquiao for that matter, they are just something for their large entourage to carry into the ring on fight night.
For pretty much every fighter out there, a title is reason enough for them to get on a coveted TV spot and get paid a reasonable purse. Depending on your promoter and your popularity, that might mean a premium spot on HBO or Showtime a less paying opportunity on ESPN, TruTV or Fox Sports 1.
The elite of the sport, Mayweather, Pacquiao, "Canelo" and Chavez Jr among others, don't need the excuse of a belt to get on TV but rely on their popularity, one that they have worked hard to amass or one that has been handed to them by the a TV network or last name. Despite of that, these fighters still fight for the titles.
Why?
Because traditionally, that is what the sport is about. We all know the real motivation for almost every fighter that straps up a pair of gloves is how many zeros their check is going to have at the end of the night but us as fans don't want to hear that. We rather for our favorite fighters state before the fight that they are getting it on because they genuinely don't like their opponent, the glory of it or to capture another title in yet another division and go down in the history books.
It can't be to give the sanctioning bodies a reason to exist, is it?
---