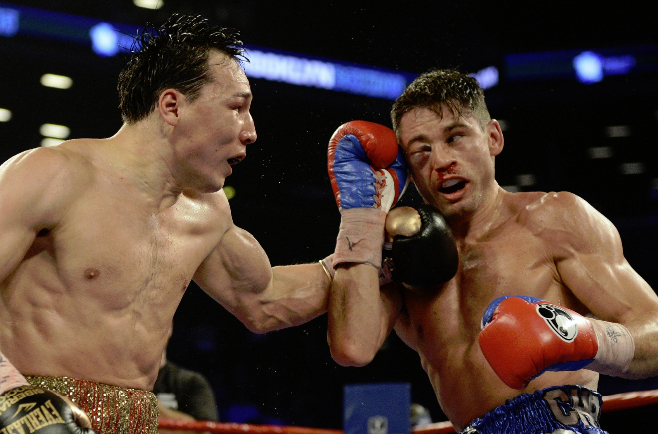 With a steady jab and one eye undefeated nutritionist Chris Algieri upset the apple cart by taking a split decision win and the WBO light welterweight title from the most recent darling of the boxing world, the "Siberian Rocky" Ruslan Provodnikov.  The thirty-year old Algieri was seen as a mere formality by not only Team Provodnikov but by HBO as Provodnikov was being prepped bigger and better things, mainly perhaps a fall showdown against Manny Pacquiao.  It was not to be since Algieri after surviving two knockdowns and a severe swelling his right eye derailed the Provodnikov express towards the biggest pay day of the Russian's career and now ceremoniously positioned himself for the same fight.
Is a Pacquiao versus Algieri fight even possible?
Bob Arum, leader supreme of Top Rank and Pacquiao's promoter, said recently that Algieri is in the running for a possible face off with Pacquiao if only for the mere fact that he was the one to stop the Siberian locomotive known as Provodnikov.  Ever since Ruslan went to war with Timothy Bradley in the 2013 fight of the year, fight fans have been salivating at all the possible match-ups the Russian could be involved in.  From Brandon Rios to Juan Manuel Marquez to Pacquiao himself have been mentioned slam-dance partners with Provodnikov and while Marquez opted to take on Provodnikov's sloppy seconds in Mike Alvarado last April, it looked as if Provodnikov was in line for the Filipino phenom himself.
Provodnikov's ill-fated night against Algieri was his last under the Top Rank banner after signing waivers to three of his fight for the right to face Bradley.  Although not officially known, it can be imagined that Algieri, who is promoted by Star Boxing, also had to agree to a similar agreement.  With no ties to Top Rank, Banner Promotions, Provodnikov's promoter, on the strength of Ruslan's performances not only against Bradley but his bludgeoning of Mike Alvarado for the WBO strap had maneuvered themselves to their own deal with HBO.  Is the deal still alive? Provodnikov still makes for good TV but a chip on the armor was revealed, he is not the indestructible cold-war tank everybody believed he was.
Algieri put together the performance of a lifetime but is it enough to take on the best of the division? Granted he is the champion but prior to this win against Provodnikov, the biggest scalp on his ledger was one Emmanuel Taylor?
Who is he? Exactly.
At the end of the day Provodnikov did not turn out what we thought he was.  He still is an exciting fighter, a balls to the wall brawler who if you stand in front of him and decide to exchange leather, you will more than likely get hurt.  What he didn't turn out to be was a true champion, a fighter that no matter what kind of style you bring, he will beat you.  Despite the hardware around their waists, there aren't many true champions out there.
Is Algieri one? We will soon find out.
---