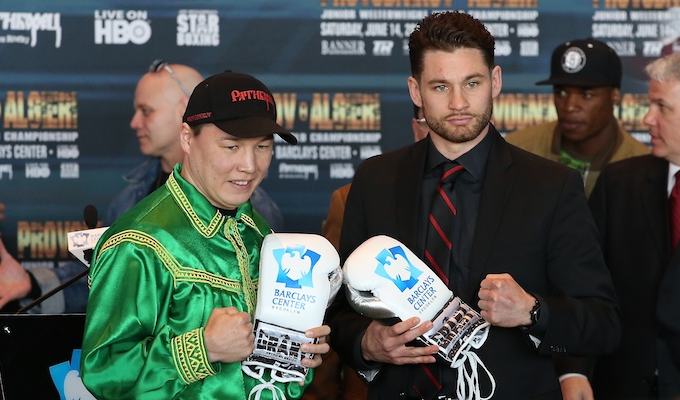 It sure feels as if the "Siberian Rocky" Ruslan Provodnikov is on the cusp.  Considered a B-level fighter and only good enough for "Friday Night Fights" on ESPN prior to his fight against Timothy Bradley just last year, now Provodnikov finds himself in his third HBO broadcast fight in a row in his last fight under the Top Rank banner.  Promoted by second-tier Banner Promotions, Ruslan has earned his own deal with the most important network in boxing and from here on out he won't have to share his winnings with the company helmed by Bob Arum.  Although not a household name and far from it, Provodnikov has arrived enough to get himself a handsomely paid keep busy fight tomorrow night against the undefeated Chris Algieri.  Provodnikov will defend his WBO light welterweight strap.
Provodnikov found himself on the boxing radar back in early in 2011 he waged war against the coming-into-his-own Mauricio Herrera on ESPN in a battle that many saw the charismatic Provodnikov win.  Instead he walked away with a unanimous decision loss.  After the loss the thiry-year-old Provodnikov went back home to Beryozovo, Russia, and after earning an easy win there found himself on the ESPN airwaves once again but this time he came away with a win over previously undefeated Chicago Ivan Popoca. Three wins after that he found himself in the ring with the none other than Timothy Bradley on a chilly early spring night in Carson, California.  Bradley was coming off a long layoff after beating Manny Pacquiao in one of the most controversial decisions in recent years and that is saying something since there have been a lot of questionable decisions in recent years.  Out to prove something Bradley decided to brawl instead of box the tough Provodnikov that resulted in the best fight of last year.  Despite the close unanimous decision loss, it felt like a win for the "Siberian Rocky" since boxing fans were much more interested in what he was going to do next than what Bradley did.
What Provodnikov did next was only hand Mike Alvarado a beat down for the WBO strap he will be defending in what should have been Alvarado's homecoming fight in Denver in October of last year.  Instead it was Provodnikov's coming out party as he stopped "Mile High" Mike in the tenth after systematically breaking down the former champ.
Provodnikov expected bigger and better things after that performance but instead found himself on the shelf.  He watched Bradley get a rematch with Manny Pacquiao and Alvarado go against Juan Manuel Marquez, two fights that many believe should have gone the Russian's way.  A win over Algieri, a fighter whose biggest win is a toss up between Mike Arnoutis or Emmanuel Taylor, would probably not lift up Provodnikov's profile all too much but this fight does keep him on the public's eye on the biggest platform in boxing.
Provodnikov is the answer to that traditional boxing equation, too much risk for too little reward for the bigger names in the sport.
---