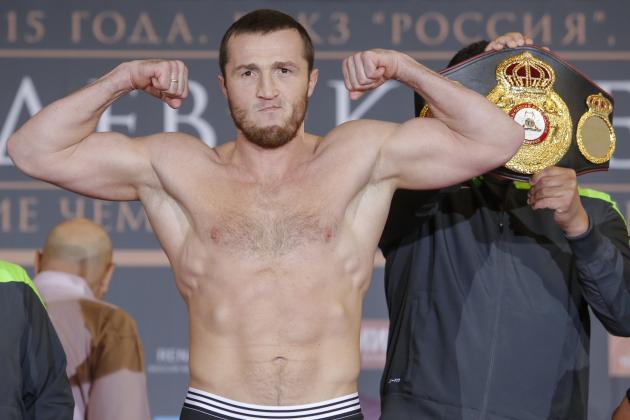 WBA Cruiserweight world champion Denis Lebedev (27-2, 20 KOs) of Russia will return to the ring this Wednesday. His opponent will be unbeaten former world title challenger Lateef Kayode (21-0, 16 KOs) of Southern California by of Nigeria. The bout will be featured at the Basket-Hall Arena, in Kazan. This will be Lebedev's second bout in 2015. Significant as he hasn't fought twice in a year since 2012.
Lebedev's classic fight with former world champion Guillermo Jones in 2013 was fight of the year in the opinion of many. It was an epic fight that saw both men really leave it all in the ring. Lebedev was ahead on the official scorecards in round 11 where he would be stopped by Jones and lose his world title. Lebedev clearly got the far worse physical damage of the bout as both of his eyes were badly swollen shut. The aftermath of the fight saw Jones test positive for a banned substance. The loss officially remained the same but Jones was stripped of his world title and Lebedev was reinstated as world champion. A rematch was set about a year later but Jones tested positive for a banned substance prior to fight and the fight was cancelled the day of the planned event.
Lebedev has won two straight since the Jones loss but that has been over a period of two years. Kayode has had his own issues of opponents testing for banned substances. His first encounter happened in 2012 against former world champion Antonio Tarver who tested positive for a banned substance following their bout which was originally declared a draw. Then there was his WBA interim world heavyweight title fight with Luis Ortiz in 2014 who tested positive for a banned substance following their bout. The bout was originally ruled a knockout loss for Kayode. Both fights with Tarver and Ortiz were overturned to no contest removing both blemishes from Kayode's record.
The Lebedev vs Kayode matchup appears to be a very good one for multiple reasons. There are still some questions as to what Lebedev has left following his fight with Jones. Lebedev had all he could handle with lesser experienced Youri Kayembre Kalenga who had Lebedev down in the fight. Lebedev came back to drop Kalenga in the fight as well in route to a decision win. This could have been a case of Kalenga being better than thought or the inactivity for lebedev playing a part in it.  Kayode seems to much better suited for the Cruiserweight division than at heavyweight. These factors could lead to a very completive fight. Lebedev for the moment still is amongst the best in the cruiserweight division.
---