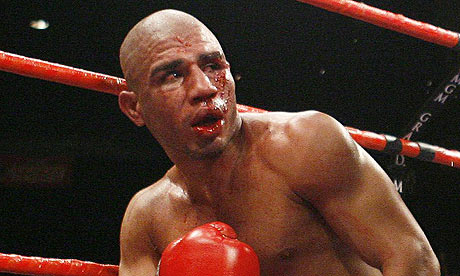 This past week it was reported by an article in ESPN Deportes, the web portal's Spanish edition, that infamous boxing trainer Javier Capetillo license had been reinstated by the same entity that banned him for life, the California State Athletic Commission.  If we go back to early 2009, prior to his TKO loss in the ninth round to Shane Mosley at the Staples Center, the festivities were held up when Mosley trainer Nassem Richardson correctly suspected that something was irregular with Margarito's wraps prior to the bout.  He forced Capetillo to re-wrap Margarito in front of the CSAC supervisor and an old used piece of gauze was found with a plaster-like substance on it.  A month later in a hearing held by the CSAC Margarito was banned by a year while Capetillo for life.
After honoring the ban, Margarito came back in Mexico under the watchful eye of new trainer Robert Garcia of Oxnard.  In what was the last run of Margarito's career the Tijuana fighter only performed three more times. After his comeback fight, Margarito was completely annihilated by Manny Pacquiao at Cowboys Stadium in Dallas in a twelve round drubbing that permanently damaged Margarito's right eye.  After a long recuperation, he came back a year later in December of 2011 to be stopped by Miguel Cotto in a rematch.  Margarito hasn't fought since.
Despite being banned, Capetillo has continued to train fighters in a gym near Los Angeles.  Past and present fighters Capetillo has worked with have been the aforementioned Magarito who before the incident considered Capetillo a second fighter but after completely disassociated himself to protect his career, Jorge "Travieso" Arce, Giovani Segura and Miguel Vazquez among others.  Despite not being able to work the corner of his fighters in the United States, he has been known to sit nearby in a ringside seat and shout instructions from there.  In Mexico he has not been banned and has worked the corner there without incident.
With the recent news that his licensed is once again current, this might set a bad precedent for others who might go just outside the lines of the rules.  With so much controversy in recent years regarding PEDs and questions regarding how effective they can be in boxing as well as how much damage a fighter on them can cause his opponent, with tampering of wraps and/or gloves, there isn't much speculation, the proof is in the victim's face.  In the fight that defined Margarito's career, the 11th round stoppage of Miguel Cotto in July of 2008, Cotto's face was left a bloody mess once Margarito, known as a late starter, warmed up and pressured the Puerto Rican into submission.  Once the news of the illegal wraps came to light, Cotto maintained that he suspected Margarito used them in their first fight although no evidence was ever presented.
With Capetillo's reinstatement, the California State Athletic Commission is basically saying that a ban for live really just means five years.
---