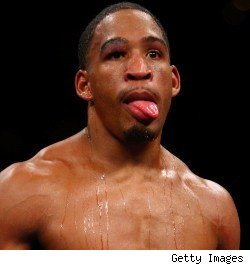 OOOPS!!! I done picked wrong like everybody else. I can't believe it. That many upsets? Prospects dropping like
Friday
ESPN2 Friday Night Fights
The Bell Centre in Montreal, Canada
David Lemieux (25-0) vs. Marco Antonio Rubio (49-5-1)
Tito's Pick: Lemieux by nasty knockout in 7.
What happened: Lemieux tripped and fell into the web that is Marco Antonio Rubio and got TKO'd n 7.
Showtime
Shobox: The New Generation
The Laredo Energy Arena in Laredo, TX
Marcus Johnson (20-0) vs. Dyah Davis (18-2-1)
Tito's Pick: Marcus Johnson by late stoppage.
What happened: My bad streak of picks began that's what happened. Dyah Davis by decision in 10
Willie Nelson (16-0-1) vs. Vincent Arroyo (10-1)
Tito's pick:  Willie Nelson by knockout in 6
What happened: Nelson done got dropped in three rounds en route to a decision loss in 8. Ooops.
Danny O'Connor (14-0) vs. Gabriel Bracero (14-0)
Tito's pick: Bracero by decision
What happened: Bracero did me right and pulled out the upset win in 8. Sweet.
Telefutura Solo Boxeo Tecate

Buffalo Bill's Star Arena in Primm, NV
Jesse Vargas (14-0) vs. Vivian Harris (29-5-1)
Tito's Pick: Harris will be lucky to survive. Vargas by 187 in 6.
What happened: Harris quit after the first round because he was not feeling well. Or maybe someone showed him a mirror and he realized "I'm Vivian Harris. I shouldn't be fighting." Vargas TD 1.
Saturday

HBO Pay-Per-View
The MGM Grand in Las Vegas, NV
Erik Morales (51-6) vs. Marcos Maidana (29-2)
Tito's Pick: C'mon now. You really need to ask? Maidana by knockout in like 7.
What happened: What didn't happen? Morales lost an eye in the first round, Maidana got tired in the fourth, Morales dominated the middle rounds and came close to winning. Oh yeah, EVERYONE was proven wrong. Awesome fight. Morales proved why he is a legend and way we need more dudes like him in boxing.
Maidana got a decision. Morales gave us all a boxing chubby.
Michael Katsidis (27-3) vs. Robert Guerrero (28-1-1)
Tito's Pick: Katsidis by late knockout. Guerrero fades, yo.
What happened: I was wrong as hell. Guerrero didn't fade. Katsidis didn't knock him out. Instead, Guerrero put on his best show and got the job done in twelve.
James Kirkland (27-0) vs. Nobuhiro Ishida (22-6-2)
Tito's pick: Kirkland in 4. Hey, that's two more than the last guy.
What happened? Kirkland got straight knocked down three times and then Joe Cortez jumped on him. Ishida in one in the upset of the weekend. See for yourself:
Paul Malignaggi (28-4) vs. Jose Cotto (32-2-1)
Tito's pick: Mango by decision, of course.
What happened: I felt like I was being peeled watching Mighty Mango get his decision. His weigh in outfit was more exciting. Well, that is if you are a member of the Village People.
Indie PPV

The Prudential Center in Newark, NJ
Tomasz Adamek (43-1) vs. Kevin McBride (35-8-1)
Tito's Pick: Must be Sacrifice the Journeyman week. Adamek late but like a total beatdown. McBride's corner will stop it.
What happened: Adamaek did his job and won the distance fight. Polish fans were happy. There was joy in Prudential Centerville.
A stream near you
Bordeland Halle, Magdeburg, Germany
Robert Stieglitz (39-2) vs. Dimitri Sartison (27-1)
Tito's pick: Steiglitz by decision. It's Germany.
What happened: I didn't see it but apparently all hell broke loose. Steiglitz got a 10 round DQ win. Cool.
---