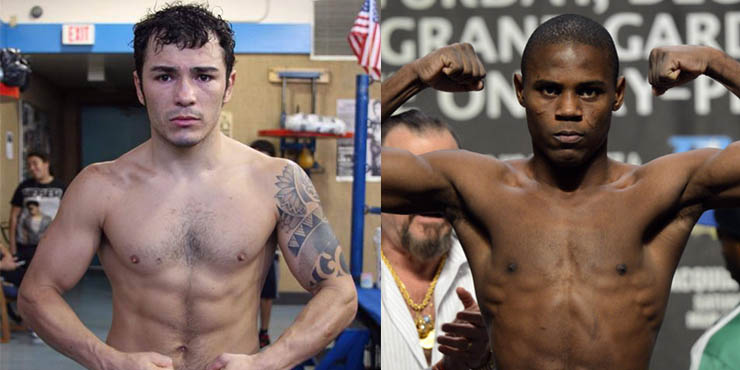 The Premier Boxing Champions (PBC) televised opener on Spike Friday, May 29 will be Bryan Vasquez (34-1, 18KOs ) vs. unbeaten Javier Fortuna (27-0-1, 20KOs ). Site location will be the Barclays Center in Brooklyn, New York.  The pair will battle for the vacant WBA super featherweight world title. Each fighter has held WBA interim titles. Vasquez at 130 and Fortuna at 126. Fortuna actually lost his title on the scale but would go on to win that fight.  Vasquez and Fortuna are not household names at the moment but their profiles could enhanced following an exciting fight.  .
Fortuna is only 25 but this will be his 30th professional bout.  He comes from a decorated amateur background and is from the Dominican Republic. Fortuna's breakout fight came in 2012 when he faced fellow unbeaten Yaudale Evans on ESPN2 Friday Night Fights.  Fortuna flourished under the bright lights stopping Evans in less than 1 round in devastating fashion. He followed this performance up by stopping former world champion Cristobal Cruz in round 2 just two months later. It was the first time Cruz had been stopped in nearly 10 years. The fight was aired again on ESPN2 FNF but this time as the main event. It was valuable exposure gained by Fortuna leaving fans wanting to see more. He has remained unbeaten in his 8 fights since his victory over Cruz and is primed once again to make something happen exciting on national television.
The 27 year old Vasquez path in boxing was a bit different than Fortuna's. The Dominican Republic is loaded with boxing talent where Vasquez' native Costa Rica not so much. In fact the top two fighters in the country are Vasquez and his wife former junior middleweight world champion Hanna Gabriel who is also a native of Costa Rica.  Vasquez lost in his first attempt at a world title in 2012 vs. Takashi Uchiyama. Vazquez not only lost the fight it was his first career loss . Vasquez has reeled off 5 straight wins since including an upset of unbeaten Jose Felix (26-0-1 ). The Felix victory got Vazquez some valuable exposure as it  took place on the televised Pay-per-view undercard of the rematch between Manny Pacquiao and Timothy Bradley. It was also the U.S. debut for Vasquez and in took place in Las Vegas, Nevada.  Vasquez with a victory Saturday would be become the first male from Costa Rica to win a world title in boxing.
The matchup of  each fighters' styles is an excellent one. Neither is a pure boxer so there will likely be very few lulls in the action. Fortuna has the edge in hand speed for sure. The power edge is questionable as Vasquez has been at 130 for most of his career where Fortuna moved up from 126 in the last few years.   We just won't know until the fight starts if Fortuna has brought that same explosive power he flashed from 126 up to 130.  Vasquez is not a one shot power puncher but is more than willing to exchange.  Fortuna has shown he can fade in fights where Vasquez seems to get stronger as the fight goes on. Both fighters seems to have decent chins. The sportbooks odds' on this fight are even. This pretty much sums up how competitive and exciting this fight should be.
---