Boxing History: March 14, 1927 Mushy Callahan KO 2 Andy DiVodi, NYC.
Retains World Super Lightweight Title.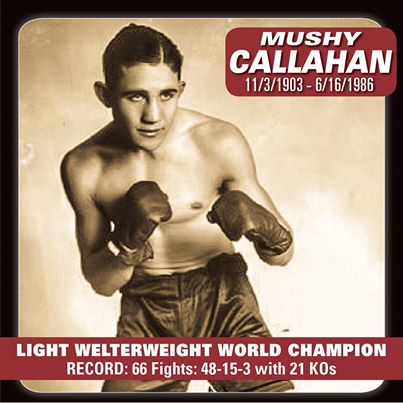 Mushy Callahan was the ring name of Vincent Morris Scheer. Callahan was born on November 3, 1905, in New York City. He took the ring name of Mushy Callahan and began boxing in 1924.
Callahan defended his title twice in 1927 and fought a variety of non-title fights from 1927 to 1929.
Callahan never fought for another title and retired in 1932. After boxing, Callahan worked as a boxing referee and in the entertainment industry, in which he coached actors for boxing scenes. Mushy Callahan acted in, and served as a boxing technical assistant on, a number of boxing movies. He trained Elvis Presley for his role in Kid Galahad, and portrayed the referee in the movie's final climatic bout.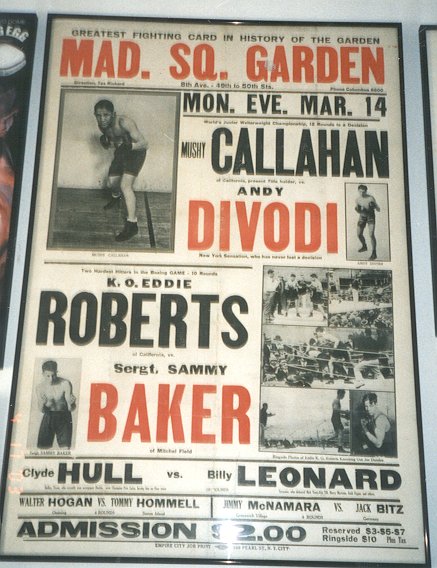 March 14, 1926, at Madison Square Garden featuring junior welterweight champion Mushy Callahan in his second title defense agaimst Andy DiVodi. Callahan scored a second-round knockout. Callahan, whose real name was Vincent Morris Scheer, boxed from 1923 until 1932. He held the 140-pound title from 1925 until losing it to Jackie "Kid" Berg in 1930 in London. He lost 14 out of 65 fights.
---