Boxing History: March 6, 1969 Lionel Rose W 15 Alan Rudkin, Melbourne. Retains World Bantamweight Title.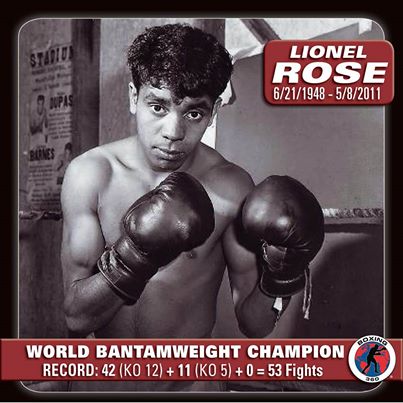 Lionel Rose (born June 21, 1948) was an Australian boxer who became the first aborigine in boxing history to win a world title. Rose grew up learning how to box while watching his father, also a professional boxer. He barely missed the 1964 Summer Olympics in Tokyo.
Rose began his professional boxing career on September 9, 1964, outpointing Mario Magriss over eight rounds. This fight was in Warragul, but the majority of Rose?s fights would be held in Melbourne.
Boxer Lionel Rose was the first indigenous Australian to be named "Australian of the Year" in 1968 by Victorian Governor Sir Rohan Delacombe at Melbourne Town Hall.
The eldest of nine children, Rose grew up at Jackson's Track in Victoria's Gippsland region. He ran a cafe and also had a musical "hits" in 1970 with I Thank You and Please Remember Me. He often carried a pipe.
In 1970 he won the Australian Amateur Flyweight title
In 2003 he was an inaugural inductee in the Australian National Boxing Hall of Fame.
In 2005 he was featured on the list of people to appear on stamp (part of the 2005 edition).
In 2005 Rose was also awarded the E9 title of 'King of the Ring'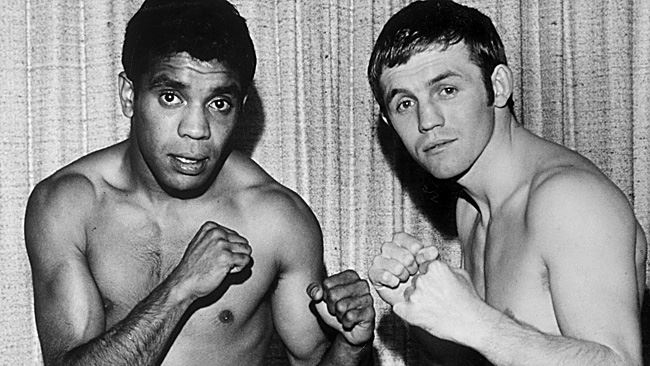 Lionel Rose and Alan Rudkin before their world title fight at Kooyong in 1969.
---