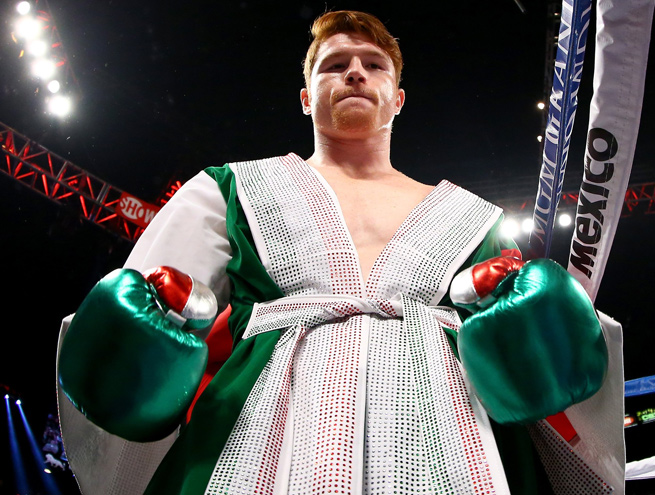 "Chepo" Reynoso, former WBC 154 lbs. champ Saul "Canelo" Alvarez trainer and close advisor, has revealed that his young charge's next opponent has been whittled down to either the IBF junior middleweight champion Carlos Molina or former interim WBO lightweight title holder Alfredo "Perro" Angulo.  Ever since his disappointing loss to Floyd Mayweather Jr, Alvarez and his team have tried to make some major moves in hopes of keeping "Canelo" under the spot light but some of them have come back to blow up in his face.
Obviously the first was his almost non-existent performance against Mayweather Jr in a September fight that many Mexican fans invested in to either travel to Las Vegas for or to watch on Pay per View.  Soon thereafter, many of those fans called for Alvarez to donate a good chunk of his multi-million dollar purse to the victims of the devastating storm suffered in Acapulco in October.  It is not known if Alvarez made a contribution but days later images of the twenty-three year old fighter emerged of him helping removing debris.
Later that month, Alvarez and company publicly stated that he would participate in three Pay per View events in 2014 and even went as far as to announce the dates, March 8th, July 26th and November 22nd.  Many boxing pundits came out mentioning that although Alvarez enjoys a huge popularity, it was somewhat of an unprecedented move for one fighter to perform on paid TV more than twice a year.  Not Mayweather Jr, De La Hoya or Mike Tyson, some of the biggest names in the sport, have fought more than twice on PPV.
It looked like everything was moving in the right direction when it was let known that a sizable offer of ten million dollars was made to former three-divisional champ Miguel Cotto for his services on the first of the three 2014 Alvarez dates.  No doubt that an Alvarez-Cotto bout would be an easy sell for $69.95 but Golden Boy Promotions, who promote Alvarez, did not count on Cotto opting for history by saying no to Alvarez and saying yes to Sergio Martinez (although not officially).  It is rumored that Cotto will face the WBC middleweight champion for his chance for a fourth title in as many divisions.
With Cotto saying no to the dance, now Alvarez must settle for either Molina or Angulo for his fight since his first pro loss.  Neither are easy pickings for "Canelo".  Molina is an awkward veteran who captured the title with a split decision over Ishe Smith on the under card of Mayweather-Alvarez.  Angulo, despite coming off a loss, is a typical Mexican come-forward fighter who never stops throwing punches and has been salivating for years in hopes of facing Alvarez.
According to boxing experts, neither is a PPV worthy opponent.
Will Alvarez still try to make the fight a PPV one to save face and risk a low sale amount or does he go on regular Showtime and perhaps register one of the biggest ratings share in the new year?
Whatever Alvarez and Golden Boy Promotions decide to do, everybody can be sure that it will bring new things to talk about…
---