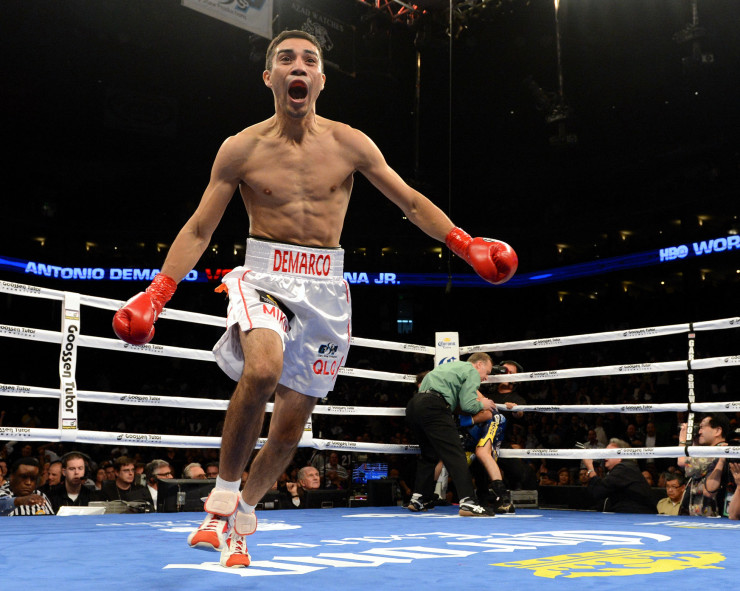 Usually fighters at twenty-nine years old are in the middle of their prime but Tijuana, Mexico's Antonio DeMarco (31-5-1, 23KO) might be on the verge of retirement.  This Saturday night, he faces fellow former lightweight champion Omar "Panterita" Figueroa (25-0-1, 18KO) at the AT&T Center in San Antonio, Texas.  The fight will be broadcast live on NBC by the PBC, Premier Boxing Champions, led by Al Haymon and company.
DeMarco didn't intend to be a boxer.  As a young man in his native Los Mochis, Mexico, DeMarco was more inclined to use his feet in soccer games than his fists despite his grandfather and uncle having made a name inside a ring.  DeMarco even went as far as to audition for a major Mexican soccer team in Mexico City but was sent back.  Then, in hopes of helping his needy family, DeMarco turned to boxing and made his way to Tijuana, Mexico, and the gym of one Romulo Quirarte.
DeMarco has made it no secret there was no going back to Los Mochis as a failure.  In pursuit of that, DeMarco suffered extreme poverty including homelessness in the street of Tijuana as he honed his skills.  Once Mr. Quirarte found out the hardships DeMarco was living through, he took him into his home as one of his own.
DeMarco went pro as a eighteen year old and rattled off eight straight wins before suffering his first loss, a majority decision to unknown Anthony Vasquez in a six rounder.  After learning from that, DeMarco didn't take a look back and went on to win his next 15 with one draw.  On that run he captured the interim WBC lightweight title with a 10th round TKO over Jose Alfaro.  He challenged for the full-fledged title in his next fight.
Bad thing is, it was against the late great Edwin Valero.  DeMarco put up a fight at the Monterrey Arena in Mexico but Edwin was too much of a whirlwind and finished off DeMarco in nine rounds.  Valero committed suicide after the fight in a cell after murdering his wife. DeMarco captured the WBC silver lightweight title with a unanimous decision over Reyes Sanchez and then captured the title again with a come from behind stoppage of current champ Jorge Linares. He defended the title twice, stopping Miguel Roman in five and John Molina Jr in one.  Adrien Broner stopped him eight to take the title and end his run at lightweight.
After the Broner fight, DeMarco also ended his relationship with Gary Shaw and a couple of fights later with Romulo Quirarte.  He was trained for a bit by Freddie Roach and then by his father-in-law, Raul "Jibaro" Perez.  He is 3-2 in his last five fights, losing his last two, the first one to Jessie Vargas for the WBA super lightweight title and last June to Rances Barthelemy.  He announced his retirement after his last fight but rescinded his decision when this fight against Figueroa was offered.  Figueroa is a better match for his aggressive come-forward style than the Cuban Barthelemy.  You would expect if he loses against Figueroa, the thought of hanging up the gloves will cross his mind again but if he pulls another big win, we might have DeMarco for a little bit more.
---