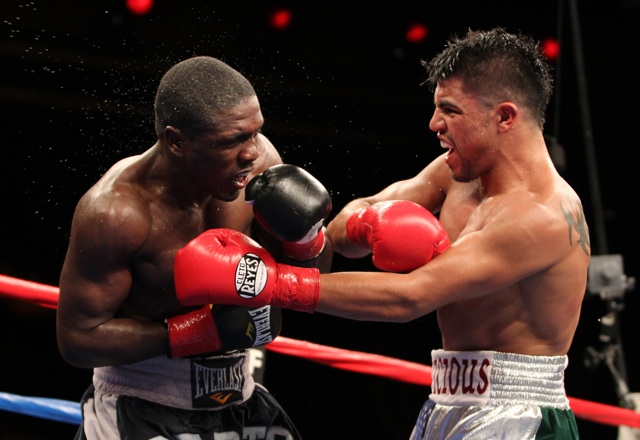 A long past rematch between former world champions "Vicious" Victor Ortiz (31-5-2, 24 KOs) and Andre Berto (30-4, 23 KOs) will finally take place April 30th. The site of the fight will be the StubHub Center in Carson, California. The main event bout will be aired as PBC on FOX and FOX Deportes. The bout is scheduled for 12 rounds at the welterweight limit.
It is really hard to believe that the two fought for the first time nearly 5 years ago. Berto entered the fight a heavy favorite and was 27 and 0. Ortiz' career was in turmoil as many felt he quit against Marcos Maidana a few years prior and he was in the process of rebuilding his name for the doubters. Ortiz was down early in the fight and looked like he was going to be stopped but he came back and dropped Berto. Both guys were down a few times in the fight but it was Ortiz who took control late to win the decision and Bertos world title.
Each guy has had ups and downs since that fight. Ortiz got the Floyd Mayweather Jr. fight next which he would lose. His personal life was on the upswing as well as Hollywood came calling and he landed a roles in the expendables 3, Southpaw, and Going on. His boxing career has not been as successful. Berto would rebound and win another world title but injuries and losses followed. He did land a fight against Mayweather Jr. as well but like Ortiz he was defeated. This is a crossroads fight for both guys. The winner will see himself back in contention and loser may have to consider hanging up their gloves.
---