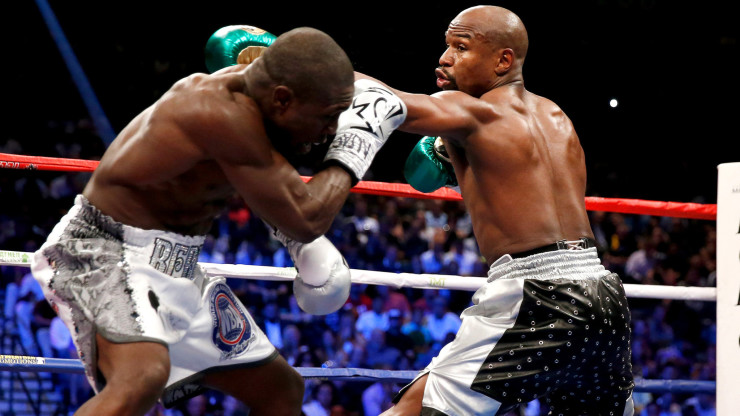 For all his big talk, Floyd Mayweather Jr sure went out with a whimper.  In a fight that left much to be desired, Mayweather Jr took a lopsided unanimous decision over former welterweight champion Andre Berto on Saturday night at the MGM Grand Arena in Las Vegas, Nevada.  If we are to believe Mayweather Jr, this fight was his last, the forty-ninth of his career and ties heavyweight Rocky Marciano for retiring with the most wins without a loss.   The fight also marked the end of Mayweather Jr's multi-million dollar agreement with the Showtime network.
Nothing out of the ordinary for a Mayweather Jr fight transpired for his last fight.  Like always Mayweather Jr did just enough to win while Berto just didn't have enough tools in the box to really make Mayweather Jr uncomfortable.  The only thing out of the ordinary was that near the end of the fight Mayweather Jr and Berto were doing so much trash talking inside the ring that referee Kenny Bayless had to stop the action and ask them to stop the chatter.
Berto wasn't able to close the ring or land with his right hand.  Mayweather Jr at times mixed it up with Berto and half way through the fight it looked like was going to for the knockout when he landed some quick combinations.  It wasn't enough as Berto was able to stay on his feet.  A couple of rounds later, Mayweather Jr complained to his father in the corner that it seemed that he had hurt his left hand.  At that point it was almost a given that he wasn't going to risk anymore.
When asked after the fight by Showtime's Jim Gray about his hand, Mayweather Jr answered with that it didn't matter if he had hurt his right or left hand because his career was over.  Mayweather Jr did not show his hand and kept insisting that his career was over while being ready for the next chapter of his life.
This is not the first time that Mayweather Jr announces his retirement. Or even his second time but it is his third but why announce it if nobody believes you are actually going to do it?  Because with Andre Berto going 3-3 in his last six fights and the fact that he lost to two fighters that Mayweather Jr easily doniminanted, Mayweather Jr and company had to find some kind of angle to sell this fight.
It was proven with the slow sales at the gate that Mayweather Jr and his antics, mainly his arrogant style, love of fighting sub-par opponents and overall bad guy attitude, have left hardcore and casual boxing fans with a bad taste in their mouth.  It is believed by everybody that knows anything about boxing is that Mayweather Jr is coming back in the spring of 2016 at a new twenty-thousand seating arena on the Las Vegas strip.  Will the boxing world be relieved or annoyed when he comes back?  No way of knowing but we will get our answer when the gate and PPV numbers come in for that fight.
By the looks of this gate and the projected PPV sales, it is safe to say boxing is sick of "Money".
---