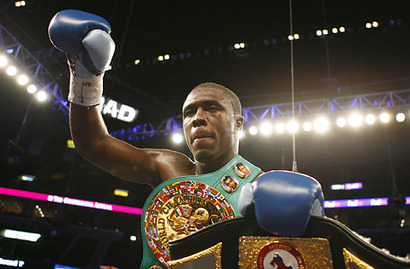 I know I for one have been harsh on Andre Berto. Maybe it's the constant soft touches over the years while he has developed on a platform (HBO) in fights usually reserved for HBO (Mikey Rodriguez, Freddy Hernandez, Norberto Bravo anyone?). Or it could be the constant self-improvement tweets that just rub me the wrong way.
But I have to say, now that Berto  is not only a two-time world champion and has been in back to back exciting fights on a world class level, I'm starting to become a convert. So the guy is limited in his defense and always gets a little bit tired. But you know what? That's kind of exciting. Flawed fighters, especially in the defense department, are what make for fights of the year.
In a world where Chad Dawson still exists to give us boring ass fights, an Andre Berto, no matter how he got here, is a welcome addition. What can I say? Dude has grown on me.
---