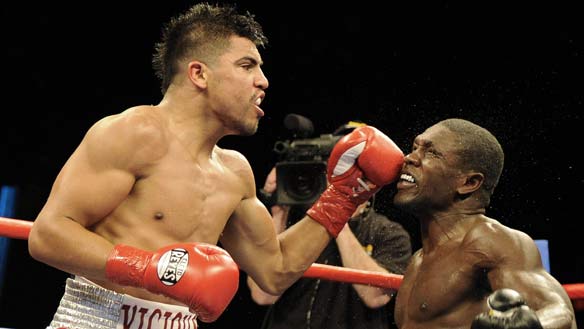 With one huge uppercut and a whole lot of effort, Victor Ortiz changed the course of his career and Andre Berto's on Saturday night. It wasn't long ago that people were saying Berto could take on Manny Pacquiao and Vicious Victor was more cautious than anything anymore.
But now? After beating Berto from pillar to post for 12 rounds and ripping that WBC belt from him, all that has changed. Berto is left at the drawing board and Victor? Victor gets to pick and choose what he wants to do.
So who does he fight next?
1) Selcuk Aydin has been the mandatory challenger since 2009. Berto and his people have paid step aside money to Aydin so they didn't have to deal with him. I bet Golden Boy, who has Ortiz, decides to face him first to keep that belt. He seems option #1 if the WBC doesn't let Ortiz have a soft optional defense first.
2) A Berto rematch. Something tells me that Berto won't want this right off the bat. He'll probably get a a soft tough on HBO to come back with in 6 months and then decide from there. Maybe we get Berto/Ortiz II to end the year if Ortiz deals with Aydin first.
3) Paul Williams may decide he wants to go after Ortiz at 147. I wonder if Al Haymon would let that happen. For one, Berto has no place but Ortiz to go and for two, Paul has not had the best luck with hard hitting southpaws. Plus, he may want to rethink going down in weight at his age.
4) Tim Bradley. I am willing to bet Bradley goes to Golden Boy once his contract is up with Gary Shaw. If he does, he could be right in line for Ortiz should he get past Amir Khan. That could be a big fight at the Home Depot Center in Carson, CA.
5) Devon Alexander. The way Alexander draws in St. Louis, this might be appealing to HBO and Golden Boy. Ortiz is not a big draw just yet. I wonder if Golden Boy would go for big gate money in St. Louis. That's not a bad fight and one that would justify the big paycheck Alexander is getting from HBO right now. Alexander can carry 147 no problem.
6) Shane Mosley. if there is anything left of him after Pacquiao destroys him in May, a fall date with Victor could be just what the doctor ordered. That is if Golden Boy lets Mosley fight one of their fighters again. That's a long shot fight but a good name for Victor.
Ortiz is in the driver's seat right now. But the pickings are slim at 147. He is going to have to wait for someone to come up in weight or a rematch of some kind. Whatever happens, Ortiz can at least be happy that no one will question his heart any time soon.
---