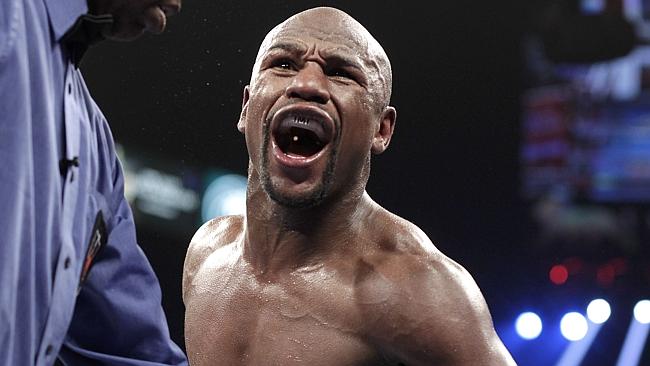 Repercussions are still falling on the shoulders of Floyd Mayweather Jr from events that were broadcast on the second episode of Showtime's "All-Access", the reality-type show that delves into the home life of fighters as they get ready for major PPV events to be broadcast by the network.  In that particular episode which was in used to promote the rematch between Las Vegas' Mayweather Jr and Marcos "Chino" Maidana of Argentina, scenes of drug use by Floyd's hanger-ons as well as a questionable practices in his gym, the Mayweather Boxing Club, including a sparring session consisting of one round that lasted a little over thirty minutes.
Soon after his second fight with Marcos Maidana held last month which Mayweather Jr won easier than the first back in May, he was called in front of the Nevada State Athletic Commission to answer questions regarding those scenes described above.   Mayweather Jr went on record to say that it was all fake and the work of Showtime.  He mentioned that the sparring session did not go as long and that that cannabis that was seen used by his entourage in the confines of his mansion was not real.  Not surprisingly since Mayweather Jr is as major economic force in the state about twice a year, the Nevada commission bought the story and simply suggested to Mayweather Jr to be more careful with what he allows to be broadcast.
Now news that Mayweather Jr just might have hoodwinked the commission has come to light.  Brothers Hasim Jr and Sharif Rahman have filed a lawsuit against Mayweather Jr, Mayweather Promotions, Mayweather Boxing Club and Showtime alleging that Mayweather misled the commission and "misrepresented facts" while testifying.
Rahman Jr swore that his sparring session with Donovon Cameron did in fact go on for longer than the normal 3-minute round despite requesting as such.  Rahman Jr contends that he fought 5 to seven minutes rounds while gambling spectators exchanges money in a session Mayweather Jr named "the dog house."
If you follow boxing and more particularly Mayweather Jr, you know that he is no stranger to controversy and with flirting with the law.  Ever since Mayweather Jr hit the boxing radar, which was very early in his career, he has been involved in one way or another with this country's justice system.  Back in 2012 Mayweather Jr did two of a three-month sentence inside a Las Vegas jail for allegedly attacking the mother of some of his children.
For this latest debacle Mayweather Jr doesn't run the risk of any jail time but if he doesn't settle with the sons of former heavyweight champion Hasim Rahman, he might be forced to answer some very direct questions on the witness stand.
No word of when or if this case goes to trial and at press time, Mayweather Jr had not gone on record yet with any response.  Instead he spent his afternoon training Justin Beiber.
---