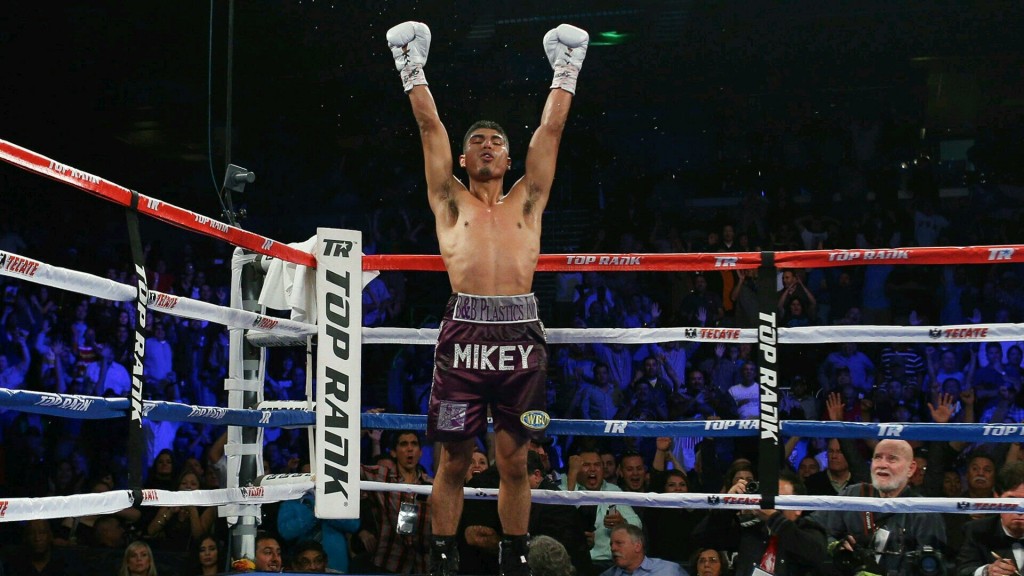 Current WBO super featherweight champion Mikey Garcia (34-0, 28KOs) might have cemented himself as a sure thing opponent for Filipino star Manny Pacquiao later this year.  After a shaky second round where Garcia saw his knees buckle from a hard left hook from Tijuana's Juan Carlos Burgos, Garcia returned the favor in the third with a laser-like right hand that hurt Burgos and forced him to hold.  From then on, Burgos only did enough to survive his third opportunity of a world title as Garcia easily dominated the action and earned a lopsided unanimous On Saturday night from the Theatre in the mecca of boxing, Madison Square Garden, two-divisional and decision.
Before the Oxnard, CA, native and police academy graduate can face the second best-selling fighter in boxing, he must first climb up the weight divisions seventeen pounds to face Pacquiao at the welterweight limit.  On the way, it is expected for Garcia to face one or two opponents that will prepare him for the quick in-and-out darting style of Pacquiao.  One that is chomping at bit and knocking on the door is Cuban Yuriorkis Gamboa who on Twitter, interviews, street corners and soapboxes has been calling out Garcia.  The back and forth on Twitter got so heated that Garcia went as far as giving out the address to the gym where he trains and making it known to Gamboa that no purse or contracts were needed for them to go some rounds.
Gamboa was on hand in New York to take in the Garcia-Burgos twelve-round contest and was more than eager to step inside the ring afterwards and have a few chosen words with Garcia regarding their pending face-off.  During their Spanish-language interview on Mexican network Azteca, both fighters admitted that they wanted the fight and it was only a matter of their representatives meeting and working out the details.
It is no secret that Manny Pacquiao's contract with Top Rank ends at the end of the year.  Although early, Pacquiao has not hinted any intention in staying and if he truly wants the fight against the number one draw in boxing, Floyd Mayweather Jr, he must walk away from his long time promoter.  Always the business man, Bob Arum is looking twelve months ahead and if Garcia, a Mexican-American fighter who so far has won the imagination of the Mexican boxing audience, could beat Pacquiao in a classic Paisa vs. Pinoy showdown in the fall of 2014, not only would Top Rank have their next-to-be superstar but also would almost guarantee that the boxing universe would finally say goodbye to a Mayweather-Pacquiao fight.
First Pacquiao has a set date to exact revenge on Timothy Bradley who controversially earned a split decision over the Filipino in June of 2012.  For now Garcia will bask in the glory of his latest win and weigh his options for the near future.  Bob Arum has said that he is reluctantly working on Garcia vs. Gamboa for May.  Reluctantly since not to long ago Gamboa left him leaving the bag when a proposed fight against Brandon Rios fell off when the Cuban did not show up for a scheduled press conference.  Now Gamboa fights under the banner of SMS Promotions led by Curtis Jackson, also known as 50 Cent, and is expected to be more willing to play ball since he has fought sporadically in the last couple of years.
With so many moving parts, it is only a matter of time and a bit of luck to see Garcia vs. Pacquiao within the year.
---