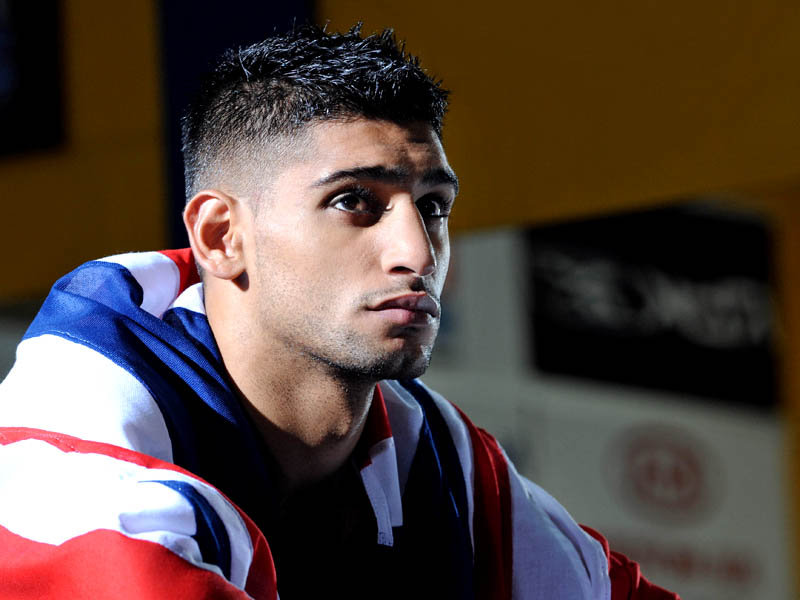 Hind sight is always 20/20.  British star Amir "King" Khan thought he had everything laid out for his career after his shaky win over former champ Julio Diaz back in April 2013.  Khan felt that he was on the short list to face boxing's kingpin Floyd "Money" Mayweather Jr soon enough.  After Mayweather decided on "Canelo" Alvarez for his September outing in September of the same year, Khan's hopes began to dwindle a bit.  Khan decided to look elsewhere for glory and tentatively decided to face the then IBF welterweight champion Devon Alexander in mid-December of last year.
Then he heard Mayweather whisper his name.
Khan, who after leaving his original trainer and his replacement Freddie Roach now is trained by Oakland's Virgil Hunter, decided to forego the championship opportunity against Alexander and instead wait on the precocious Mayweather Jr to hopefully make a favorable decision for him.  Khan tried every tactic he could come up with in hopes of getting Mayweather Jr to choose him.  From plainly calling out "Money" out to announcing that he had signed a contract and was only waiting on Mayweather Jr to put his "John Hancock" on the dotted line.
None of it worked.
Turned out that on the same night that Khan was supposed to face Alexander, Argentinean Marcos Maidana punched his ticket to Las Vegas on May 3rd as he did the unthinkable and not only solved "The Problem" Adrien Broner but completely but completely erased him.
Now Amir Khan is in a "do-or-die" situation in the semi-main event of Mayweather vs. Maidana's undercard against former welterweight champion Luis Collazo.  Khan and Collazo will be fighting for the vacant WBC Silver welterweight title as well as Collazo's WBA International strap which he captured by knocking out Victor Ortiz last January in the second round.
After Mayweather Jr announced that he hand chosen Maidana over Khan, understandably Amir was not a happy camper.  He went as far as to attempt to publicly shame Mayweather Jr stating that because of Floyd's hesitation to name an opponent, he had passed on the opportunity to face Alexander and because of that Floyd was arrogant and selfish.  In an effort to not appease but keep Khan interested in resubmitting his name for contention in the Mayweather sweepstakes, Mayweather Jr called Khan on the phone and offered the slot on the undercard.  He also mentioned to the brit that with a win there against Collazo, he would earn the right to face him in the future.  Mayweather Jr didn't specify when.
With a win over Collazo, a tough as nails Puerto Rican southpaw, Khan can erase in the eyes of the public and media, many who have second-guessed him, his decision not to fight Alexander and instead wait on Maweather Jr. He could argue that it worked out for best since even though ultra-popular in his native England, he will most definitely fight on the biggest stage of his career in the semi-main event Saturday night.  Khan also gets an opportunity to test the waters at welterweight, a weight class he has not fought in yet before and which more than likely he would face Mayweather Jr.  He could claim that now he is more known in the United States and in a sense ask for more on the negotiating table.  The fact that he just recently signed on with the influential Al Haymon, that fact rings even more true.
A loss would be catastrophic.  Not only would he lose the Mayweather Jr fight, but Khan would have to seriously think what is next for his career.  Khan is 3-2, 2KO in his last five fights with the only respectable win being a fifth round TKO of Zab Judah back in 2011.  A controversial loss to Lamont Peterson and a devastating one via KO Danny Garcia followed.  Khan defeated the smaller Carlos Molina and the aforementioned Julio Diaz after that.  Not much to build a career on at the elite level.
So it truly is "do-or-die".
---