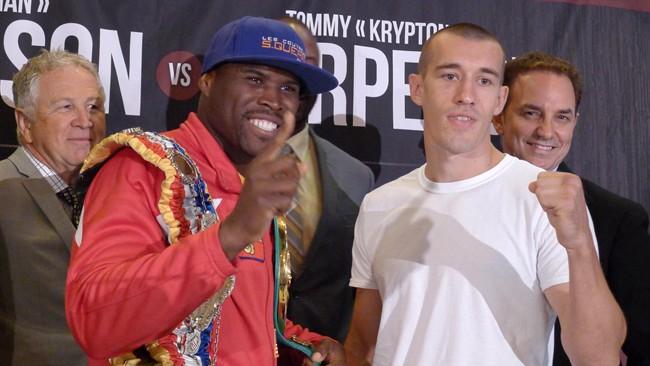 WBC World Light Heavyweight champion of the world Adonis "Superman" Stevenson (26-1, 21 KOs) returns to the ring tonight. His opponent will be former world title challenger Tommy "kryptonite" Karpency (25-4-1, 14 KOs). The fight card will take place at the Ricoh Coliseum, in Toronto, Ontario. Spike television will air  the event.
The moment this fight was announced as official it did not sit well with alot fans. Its been over a year now since an anticipated showdown with Stevenson and unified unbeaten light heavyweight champion Sergey Kovalev has been rumored of possibly happening. Both sides have alternated giving their side of the story of what has stopped the fight from taking place. The bottom line that another year has passed without them fighting each other.
Karpency will not likely crack under the pressure of fighting on foreign territory. All of his 4 losses have been for the most part in his opponent's backyard. That being said he still gave a game effort in all those bouts. Those experiences seemed to prepare Karpency for his career best win about a year ago vs. former world champion Chad Dawson. The victory was even more impressive that Karpency did so on Dawson's home turf.
Stevenson cannot look past Karpency for sure. His best should be enough to beat Karpency comfortably but the point is he needs to be at his best. A dull unanimous decision victory by Stevenson isn't going to excite anyone. Stevenson needs something decisive in the form of a knockout that at least will keep the fans interested in the real showdown they want to see. Stevenson vs. Kovalev.
---