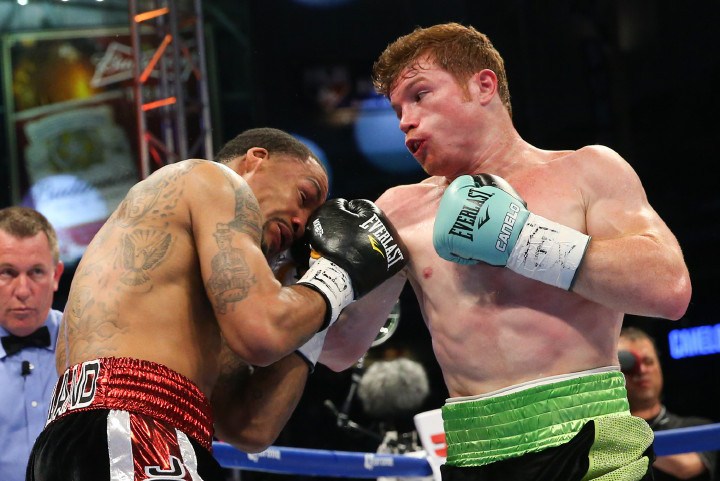 With a calculated right hook in a fast-paced third round, Saul "Canelo" Alvarez solidified his position as one of the biggest stars in the sport of boxing today.  Last Saturday night in a ring in the middle of Minute Maid Park in Houston, Texas, and live on HBO, the twenty-four year old Alvarez sent warring James "Mandingo Warrior" Kirkland to the canvas twice before finally scoring a devastating stoppage of the fighter from Austin, Texas.
His performance might have been the best Alvarez has ever put together in his nearly ten year career.  As someone that in no way, shape or form would consider himself a "Canelo" fan, that sentence took a lot to write but it is true.
See, for a long time I saw "Canelo" as many have before, as a media created monster whose popularity grossly exceeded his actual talent.  Not to mention that I believe that he has gotten some gift decisions against Trout and Lara.  Not necessarily that he lost those fights but I didn't really see him win them either.
This Saturday night with nearly nine minutes of action, he erased much of that doubt.  Granted, Kirkland wasn't the beast that we saw in his last fight back in December of 2013 when he steamrolled over Glen Tapia in six rounds.  The big difference between that fight and last Saturday's besides fifteen months was Ann Wolfe.  Wolfe wasn't in Kirkland's corner for the second time in his career.  The first? Against Nobuhiro Ishida and Kirkland was stopped in that fight in one round back in 2011.  Despite of that, Kirkland was still believed to be a dangerous fighter and one that had certain skills to make it a long and difficult night for Alvarez.  Kirkland's biggest strengths were his size, power and relentless pressure but "Canelo" was able to nullify every one of their threats with ease.  He proved to be smarter, quicker and stronger as he pounded out punishment with precision.
So are we ready to crown him king?
Not so fast.  Although only suffering one loss and beating everybody put in his way not named Floyd Mayweather Jr, Alvarez still has not established himself as a PPV star, a major component needed to be a star in this sport.  He did participate in one of the biggest Pay-Per-View's in history but that had much more to do with Mayweather Jr than "Canelo".  Since then Alvarez has tried to make it a go at PPV with all his fights in 2014 on that platform.  Although not producing horrible numbers, he didn't necessarily impress anyone either and that is why this fight was on HBO.
Alvarez more than ever needs a huge signature win and that is what Cotto provides, a fight that has not come to fruition besides both teams going to the negotiating table more than once.  A win there, and it's almost a given he gets it, puts him quite possibly on the pinnacle of the sport but for many hardcore fans, Alvarez must beat one more man after he gets past Cotto.
Golovkin.
---