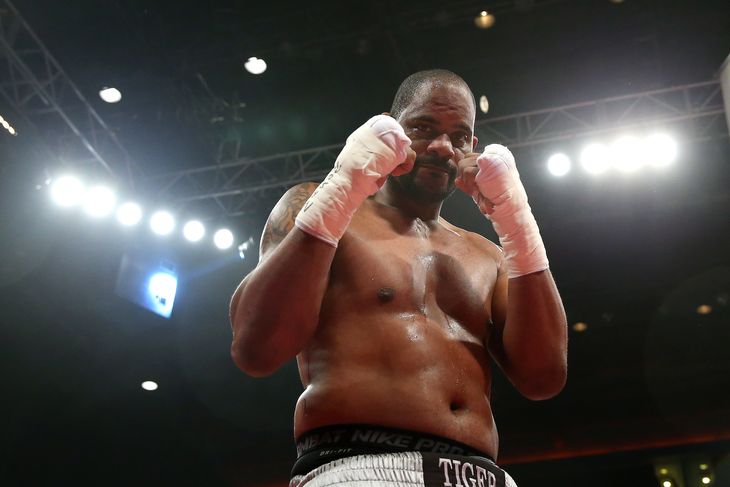 Former two- time world title challenger Tony "The Tiger" Thompson (40-5 , 27KOs) will return to the ring this Friday. His opponent will be Malik "King" Scott (37-2-1 , 13KOs) of Philadelphia, Pennsylvania. The bout will take place a The Venue at UCF, located behind the CFE Arena in Orlando, Fla. The show will be another edition of Al Haymon's Premiere Boxing Champions series.  Bounce TV will televise the event.
Thompson at 44 years of age does not look like a fighter that is slowing down. In fact in the last two years he has actually looked like he is getting better with time. In 2013 he defeated then unbeaten heavyweight world ranked contender David Price.  In less than 5 months he twice knocked out Price. Thompson was the visitor in both of those fights. Thompson  then defeated former Olympic gold medalist and world ranked contender Odlanier Solis twice in the span of a year. Thompson again went on the road for both victories.  Those are very impressive feats for anyone of any age let alone a heavyweight well into his 40's.
Thompson may end up being one of those boxers who just happened to fight in the wrong era. Had it not been for Wladmir Klitsckho he very well may have been a world champion. Thompson did twice get his opportunity but unfortunately both occasions were against Klitsckho. His current alternative has worked out thus far though not planned for sure. He is pretty much in gatekeeper status in the division. Which seems to be paying fairly decent. Only real contenders seem to be able to beat Thompson. That list is small to say the least. Scott will get his opportunity to see where he is on that list on Friday.
---