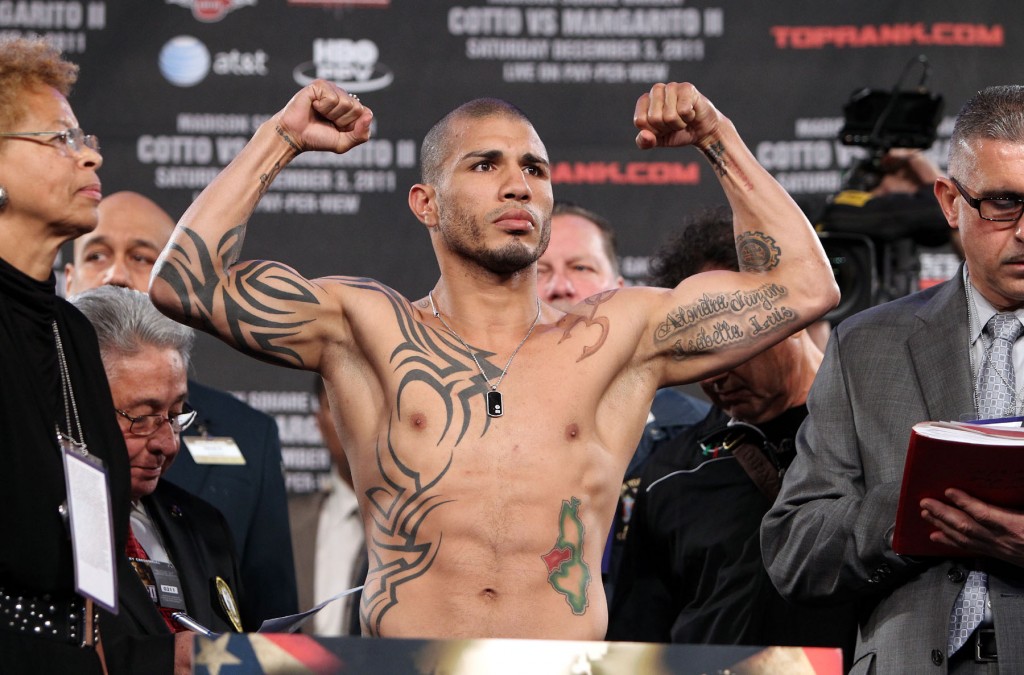 Just last week it was announced by Richard Schaeffer, CEO of Golden Boy Promotions, that he offered former three divisional world champion Miguel Angel Cotto of Puerto Rico the sum of $10 million dollars to face Saul "Canelo" Alvarez some time in 2014.  Schaeffer did not specify which of the three proposed 2014 dates, March, July or November, would be satisfied with the Cotto-Alvarez face off.
Despite losing two of his last three fights, Cotto is the most sought after fighter not named Floyd Mayweather Jr since coming off an impressive win over the overmatched Delvin Rodriguez last month.  After challenging Austin Trout for a piece of the junior middleweight crown and coming up short, Cotto took an almost year layoff, hooked up with Freddie Roach and remained a free agent despite working with his former promoter Top Rank in his last fight.
Not only is Golden Boy Promotions wining and dining Cotto but Sampson Lewkowicz, manager of WBC middleweight champion Sergio Martinez, also made Cotto an offer to face his man sometime next year in Argentina.  Although his offer wasn't nearly as lucrative as Schaeffer's, he did give Cotto an opportunity to make history by offering him a title shot against Martinez and the chance to become the first Puerto Rican to win four titles in as many divisions.
So what is Cotto to do?
All logic points for Cotto to take the money.  At thirty-three and after withstanding some brutal wars, Cotto does not have much time left to make as much money as possible and ride off into the sunset.
How much would that fourth title up his status in the annals of boxing history? Already considered the successor in popularity and accomplishments to "Tito" Trinidad, if not loved as much by the fans in the island, Cotto has solidified his place among the Boricua greats.  Would the fourth title set him apart? Of course but it is enough to risk a guaranteed $10 million dollar pay day?
He still has to beat Martinez.
The ball is in Cotto's court since he is considered one of the top draws in the sport, whether over the cable network airwaves, PPV or at the gate.  His fights against Trout and Rodriguez were among the highest rated for Showtime and HBO respectively for the year and his PPV bout against Mayweather Jr garnered around 1.5 million buys.
Now if Cotto was a gambling man, he would go for both.  Fight Martinez first, win the WBC middleweight and then negotiate a fight with Alvarez.  It is rumored that if he does face Martinez it would be at a catch weight of 157 lbs.  Why not ask the same of "Canelo" in the first defense of his title.  Being the champion, he would hold all the cards in his negotiation with Schaeffer.
It is a big risk to take but if it would go according to plan, Cotto would reap huge rewards, not only financially but legacy wise.
For us fans, we just need to wait and see.
---