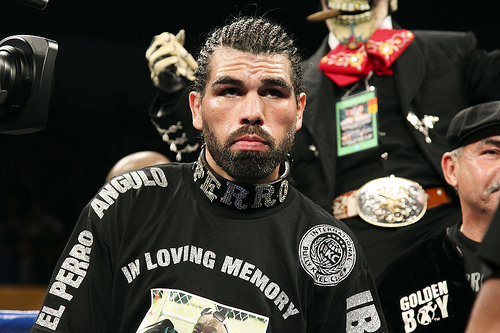 Well, it is official.  After suffering his first pro fight last September against one of the best fighters in any era, former WBC super welterweight champion Saul "Canelo" Alvarez is coming back to the squared circle on March 8th.  Across from him inside the ring will be Alfredo "Perro" Angulo in the New Year's first Pay per View event. The Showtime produced telecast will be from the MGM Grand Arena in Las Vegas, Nevada.
The fight had its up and down in the making.
Ever since "Canelo" Alvarez and his team announced late last year that he planned to fight three times in 2014 and more surprisingly all on PPV, the boxing world began to speculate who his first opponent would be after his routing at the hands of Floyd Mayweather Jr in the biggest event of 2012 last September.  Richard Schaeffer of Golden Boy Promotions ended the guessing when he released an offer to three-divisional former world champion Miguel Cotto of ten million dollars on the strength of the Puerto Rican's performance against Delvin Rodriguez in October.  Cotto, a promotional free-agent, considered the offer four over a month before politely declining to go after his fourth divisional title opportunity later this year.
That left Alvarez without a dance partner.  After a lot of hearsay, the choices were whittled down to the IBF light middleweight champion Carlos Molina and "Perro" Angulo.  With Golden Boy trying to keep the promise they made to their golden goose as far as PPV, at that point it became an easy choice since Angulo is an established name with a fan friendly style while Molina, although respected by those in the know, is considered a much higher risk for the reward.
With the official announcement made earlier this week reconfirming the fact that the broadcast will in fact be on Showtime PPV, Schaeffer is looking to make the undercard more than an aggressive one to justify to fight fans a $59.95 price tag.  This in light of Manny Pacquiao's PPV a month later in April and a month after that, Floyd Mayweather Jr's.  Some of the tilts being spoken of for the under card are Jorge Linares vs Nihito Arakawa, Ricardo Alvarez vs Omar Figueroa and Leo Santa Cruz vs Christian Mijares.
As far as the action between Alvarez and Angulo in between the ropes should be aggressive and near non-stop.  After struggling a bit in the beginning, Alvarez should be able to finish off Angulo in the later rounds with quicker hands and more effective counterpunching.  Perhaps a number of years ago, before Angulo spent over a year in an immigration detention center, the fight would have been more competitive but now Angulo has looked much slower than his thirty-one years.
It is no secret that there is no love lost between Alvarez and Angulo.  So much in fact that Schaeffer mentioned in an interview that he had to overcome some hesitation from Alvarez in agreeing to the fight since the twenty-three year old did not want Angulo to make his biggest purse yet.
Many might not buy the PPV, experts are predicting less than 500k buys, but if that dislike makes its way into the ring, we might see a war that many would have wished they didn't miss…
---