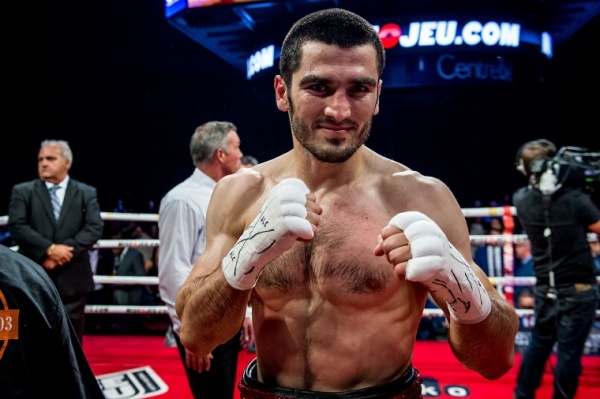 The name Artur Beterbiev (8-0 , 8 KOs) is not a household name quite yet. He does possess something that can win over even the casual fans which is punching power.  Beterbiev may only have 8 professional fights but he has really made a serious impression thus far. He has stopped all 8 of his opponents inside the scheduled distance. In just his sixth professional fight he was matched  against former world champion Tavoris Cloud. It was a big step up from the type of fighters he had fought up to that point. Beterbiev wasted no time proving that he is for real dropping Cloud three times in round 1. Cloud barely got out of the round but was stopped by KO in round 2. In his last fight he took on former world champion Gabriel Campillo. Though the fight lasted longer than his fight with Cloud the ending would actually be more impressive. Beterbiev caught Campillo  with a brutal right left combo that had Campillo out on his feet prior to him going down and out for the count. The knockout was replayed over and over on many social networks.
Beterbiev had a very long and successful amateur career. He represented Russia in the 2008 and 2012 Olympics. He turned pro in 2013 and relocated to Montreal, Canada. He also signed with lead Canadian promoter Yvon Michel.  He lengthy Amateur career saw him turn pro at 28 years old. This could contribute to why he is being moved so fast.  The other reason is that is simply that good. Beterbiev is ranked in the top 15 by all the major sanctioning bodies. The reality is that he is eligible to fight for a world title if he were  to get the call.
There is no denying that Beterbiev has extremely heavy hands. No fighters have done what he did to Cloud and Campillo in that quick of destructive fashion. It will be interesting to see what direction they take now take in opponent selection for Beterbiev now that he has proven he is  on the world class level. A dangerous next step would be a match him with future hall of famer and ex-champ Bernard Hopkins. Even at 50 years old Hopkins would be Beterbiev's toughest test to date. His promotional stable mate Adonis Stevenson is the current WBC Champion but seems more interested now in landing a unification showdown with Sergey Kovalev. Speaking of Kovalev he has a mandatory coming up so he is not likely an option for Beterbiev. The reality is that Beterbiev will likely continue to be matched with former world champions and durable contenders to stay active. Beterbiev can be rest assured that if he continues on his current pace of knocking out the competition he could see himself contending for a world title in the not too distant future.
---