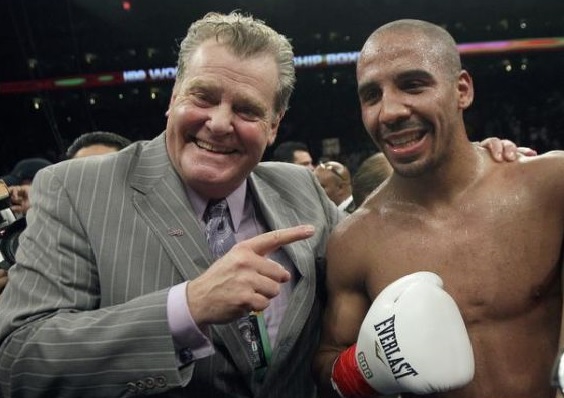 This week the boxing world was met with some tragic news.  It lost one of its own.  Dan Goosen, president of promotional company Goosen Tutor, lost a secret battle with liver cancer which not many knew about until this past weekend when the news that he was not well was plastered on twitter.  By Monday morning it was announced he had lost the fight and he succumbed to the disease at the age of sixty-four. He is survived by his wife, four sons, six brothers and two sisters.
In a career that spanned more than twenty-five years with his present company as well as past ones like Ten Goose Boxing and America Present, Goosen led the careers of the likes of Gabriel and Rafael Ruelas, Chris Arreola, James Toney, David Tua, Joel Casamayor, Bernard Hopkins, Paul Williams and Andre Ward.
Recently Goosen made more news as one half of a legal battle against his former star fighter Andre Ward.  Ward, one of the two last men to win an Olympic Gold medal for the United States, sued his longtime promoter in hopes of getting out of his contract with the California-based promotional outfit.  In early August Ward threw out the latest punch against Goosen when he sued him for not disclosing income and expenses in a federal court.  Last May, Goosen won a decision by the California State Athletic Commission upholding his contract with Ward.  Despite of that, no agreement has been reached to get the undefeated, WBA super middleweight champ and pound for pound top five fighter in the world back in the ring.
So now what?
Goosen did start his first promotional company with his numerous brothers and sisters thus the name of Ten Goose Boxing.  His brother Joe is a noted trainer who has worked with many of their fighters including the Ruelas brothers, the aforementioned Casamayor, Diego "Chico" Corrales and John Molina Jr.  His son Craig worked closely with his father and more than likely will have a say in what is next for the company if anything while his brother in law Tom Brown serves as the matchmaker for the company.
It is clearly too early to say what is next for the company since arrangements for Goosen's memorial have not been made public let alone the future plans for the company.  Surely Ward, who has not seen action since November of last year when he defeated Edwin Rodriguez via a unanimous decision, might be the most interested to know what is to come in the upcoming months since his future depends on it.
It would be hard to believe that with the passing of Dan, Goosen Tutor will just dissolve.  Granted, filling the shoes of such charismatic and born leader as Dan might be tough but his son Craig seemed to be next in line for the throne.  Will Craig want to carry on the torch against Ward in memory of his father or will he find it easier to start fresh and do what it takes to have an amicable split with the current world champ?
---