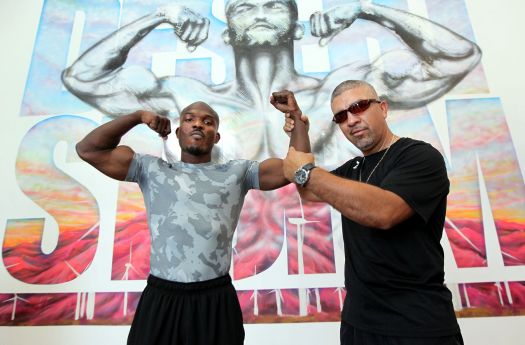 Our debate last week was who would have won in a showdown between hall of famer Ricardo "Finito" Lopez  (51-0-1, 38KOs) of Mexico and future Hall of famer Ivan  "Iron Boy" Calderon  (35-3-1, 6KOs)  of Puerto Rico. The idea was both fighters squaring off in their primes. In the case Lopez he actually seem to be on top when he retired. It was a much different ending for Calderon who lost 3 of his last 4 fights before retiring. Calderon seemed to peak with his two wins over Hugo Cazares and was undefeated at that time. The majority felt that this version of Calderon would have given Lopez some difficulty. In the end most thought Lopez would have figured out Calderon and either stopped him late or decisioned him.
The boxing community was shocked with the news that 5-time world champion Timothy Bradley was parting ways with longtime trainer Joel Diaz after more than 10 years together. The reason the split surprised so many people was that Bradley actually was coming off of a win where he become a world champion once again and that the two had been together for so long without any noticeable reason for change. Both fighter and trainer shared their individual sides of the story. The bottom line is that each now appears to be moving on for good.
Many trainers in today's boxing wish they had even half the time Diaz had with Bradley especially during the long championship reigning years. Trainers have a very difficult job in boxing. The physical part of being a trainer is hard enough as it is. The fact that most operate without a contract means job security can be fight to fight. A trainer often is the one let go following a big loss especially if it's the first one for a fighter after being unbeaten for a while.
The Bradley-Diaz break up made headlines because it just surprised a lot people but they had a very long successful run together.  The reality is that this kind of longevity between fighter and trainer is not seen so much at all in today's boxing at the top level.  Sometimes a change is not a bad thing. What happens a lot of times is new trainers don't get the necessary time to actually work with the fighter so that you can see the improvements.  Marcos Maidana made the switch to train with Robert Garcia. This is a very good example. You could actually see the improvement in Maidana after a year's time and against very good competition. The case with Miguel Cotto switching to train with Freddie Roach is still open to debate pending his performance with Saul Alvarez. The reason being is that some think the recent success is due more to who he has fought since teaming up with Roach rather than him actually improving.
The debate for this week is whether you feel more trainers should push for contracts with fighters.   Managers and promoters have contracts so why not a trainer. The normal percentage that the fighter would pay the trainer would remain the same but this would give the trainer the same security that  a manager and promoter has.  Many times a fighter will release a lesser known trainer who was with him  from the beginning for one who is more mainstream just because. These are more the protection type of scenarios where a contract could give the trainer a little more job security. There can always be clauses for termination of the contract should a trainer not fulfill his obligations. Please give us your take on the debate.
---