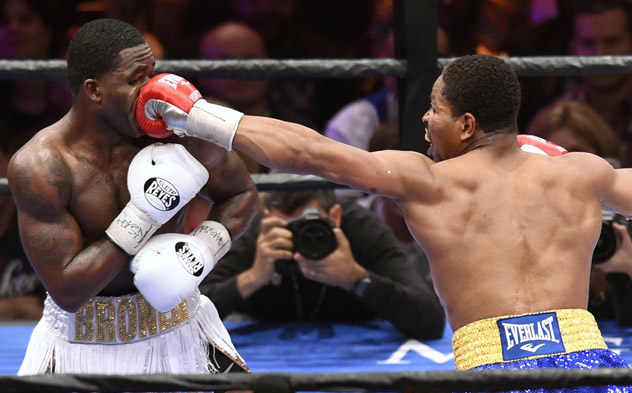 The welterweight matchup between former world champions Shawn "Showtime" Porter (26-1-1, 16 KOs) and Adrien "The Problem" Broner (30-2, 22 KOs) was a highly anticipated fight. Both fighters are advised by powerful boxing advisor Al Haymon. It was by far on paper the biggest fight of Haymon's Premiere Boxing Champions series (PBC) that kicked off this past March. Broner ironically headlined that card as well. There was so much made of the fact of if Porter could make the 144 pound catch weight for the fight but he had no issues weighing exactly at that contracted maximum limit.
Heading into the fight Porter was a slight favorite over Broner. This could have been because of the opponent they both shared victories over. Each fighter defeated former world champion Paulie Malignaggi. Broner closely decisioned Malignaggi in a fight some felt could have been a draw if not a victory for Malignaggi. Porter completely dominated Malignaggi in route to a brutal 4th round TKO.
The Broner- Porter fight itself did not live up to the hype. This was not any fault of Porter's but seemed that Broner was less willing to engage for most of the fight. Porter lost his world title to Kell Brook of the United Kingdom last year. Brook tied up Porter very effectively throughout the fight. It wasn't a very exciting strategy but one that was very effective for Brook. Broner seemed to try and use this same game plan but where Brook was scoring out of the clinches Broner did more of just clinching. He did manage to drop Porter in the last round but Porter got up and actually fought back strong until the final bell and won a clear unanimous decision.
Broner downplayed the loss but it could be a major setback for him . It's becoming quite obvious that he has not carried the same power at 130 and 135 to the 140 and 147 weight classes. Both junior welter and welterweight are loaded with talent amongst them are many of Haymon's advised fighters like Broner. If the future is for Broner to continuing fighting the top guys in the welterweight divisions things could get real interesting on how his career path will go moving forward.
Porter was real humble after his victory over Broner. His future suddenly became much brighter than it already was. He immediately now has his name in the Floyd Mayweather Jr. sweepstakes' as they say to get his chance at the unbeaten pound for pound king. There still has not been an opponent named to fight Mayweather Jr. for September 12th. There are also still potential fights with world champions Keith Thurman or a rematch with Brook could be possible. All signs seem to favor that Porter has likely earned himself a significant fight before the end of 2015.
---