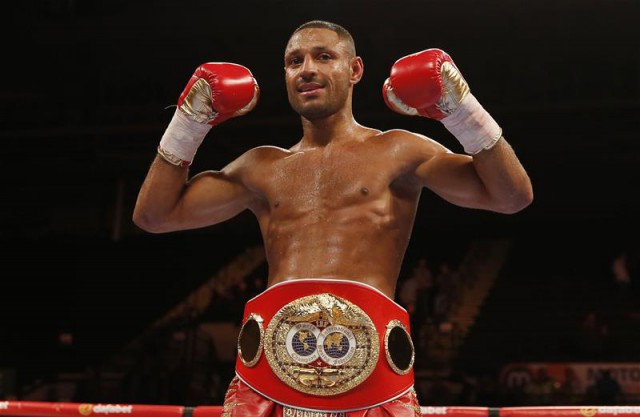 IBF Welterweight champion Kell Brook (34-0, 23 KOs) successfully defended his title last month against mandatory challenger Jo Jo Dan (34-3, 18 KOs) winning inside of 4 rounds. Brook did so in spectacular fashion in front of a packed house in his native Sheffield, Yorkshire, United Kingdom. Fortunately for Brook his fight with Dan was aired on Showtime allowing  many U.S.  fans the opportunity to see his dazzling performance. Some critics pointed to the fact that Dan was not in Brook's class. It should be pointed out that Dan did earn the right to be the mandatory challenger by winning a final eliminator the previous year.   Brook also became the first to stop the durable Dan in the latter's 36 pro fights. It was also Brook's first fight since being brutally stabbed in the leg  just 6 months earlier. Brook looked extremely sharp and proved without a doubt that he had recovered %100.
Brook wasted no time in calling out domestic rival and former world champion Amir Khan in the ring immediately after his fight. Brook has been trying to land the fight for a number of years. Khan may have been correct in not making the fight happen in the past to allow more of a buildup. However, Brook now is a world champion with proven drawing power in the UK. Some say even bigger than Amir Khan in terms of domestic ticket sales. Khan instead has decided to fight former world champion Chris Algieri which was met with a lot of disappointment. Algieri is an ex-champ but at 140 pounds. He did show a gritty effort in his upset of Ruslan Provodnikov about year ago. That victory got Algieri his shot at world champion Manny Pacquiao. Pacquiao dominated Algieri dropping him 6 times in route to the unanimous decision victory. Khan is in a no win situation with Algieri because no matter how he would beat Algieri it will not be received as any major accomplishment. He is supposed to beat Algieri and the heavily favored sportbooks odds in Khan's favor reflect that.
Brook wasted no time in securing his next fight since Khan will now be facing Algieri. Brook will defend his world title against Frankie Gavin (22-1, 13KOs) of the UK May 30th. Gavin had a solid amateur career but has not had similar success in the pro ranks. It's the right move for Brook. He sought out the Khan fight but instead of waiting around he will immediately get back in the ring. It's a very quick turnaround time for a world title fight but it's important that Brook remain active. There is no telling what big fight looms for him in the future. The reality is that Brook has an edge on Khan being that he is undefeated. There is so much talk of Khan being next in line for the Pacquiao-Floyd Mayweather winner or loser but as proven in the past year it's no guarantee. Many feel that the reason Khan has not been able to secure a Pacquiao or Mayweather because of his high profile losses and most recent wins have been turn offs to the viewers. This is important because it could hurt ppv buys.   The Devon Alexander victory for Khan was solid but the fact that Shawn Porter had already decisively beaten Alexander the year before took away some of the shine. Brook on the other hand is undefeated and coming off of a flashy knockout on the Showtime network. It's being perceived by many now that Khan is really not trying to fight Brook anytime soon. Khan is well aware that another loss will all but remove his name from consideration from the already long odds of him getting Pacquiao or Mayweather. Brook in the meantime is getting himself in position as a viable option for either Pacquiao or Mayweather. He just needs to remain active and unbeaten as that 0 in the loss column could be his ticket to a Pacquiao or Mayweather fight.
---