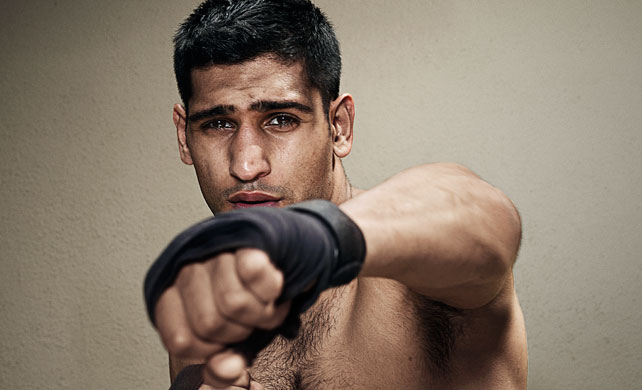 In a bit of a surprise move, former light welterweight champion Amir Khan announced that he will be facing Chris Algieri on May 30th at a venue to be determined.  Quite possibly the one with the most shocked look on his face is one Kell Brook who after his domination of Jo Jo Dan this past weekend called out Khan for an all-out UK showdown.  Khan went on record to say that despite Brook holding the IBF welterweight title, he needed to fight better opponents and earn his way to a mega-million fight against the man from Bolton.
A bit reminiscent of Ricky Hatton and Junior Witter, don't you think?
In case you are not familiar, back when Hatton was the #1 Brit export with boxing gloves, fellow Englishman Junior Witter, who held the WBC 140 pound title at the time, screamed from the rooftops that he wanted a crack at the "Hitman".  Hatton, who had a real dislike for his fellow countryman, stated he would never face Witter since he didn't want him to make the biggest purse of his career. When Witter lost his title to Timothy Bradley, well, that just gave Hatton another reason why not make the fight.
Is it the same case here?  Neither fighter has public in saying that they genuinely dislike one another, not at least to the level Hatton and Witter did.  Brook has thrown out the usual barbs against Khan, mainly that he doesn't have a set of whiskers.
I think that Khan is holding off because he is still under the impression that he can get that big fight against Floyd Mayweather Jr.  Being under Al Haymon, the idea of him facing Manny Pacquiao is almost slim to none despite being with Golden Boy and Oscar working well for the time with Bob Arum.  Facing a guy like Kell Brook, yound, quick, strong and skillful really puts a possible mega fight against "Money" in jeopardy.  Khan might think that he is above Brook but the IBF champ's power might thing otherwise.
After Khan made his announcement of his next opponent on his wife's youtube channel, Brook expressed his surprise at the choice.  Brook mentioned that his team had offered over five million pounds for a title fight at Wembley Arena for June 13th, only two weeks Khan's proposed date against Algieri.  Brooks says all he wants is to end the questions from the fans of when he will face Khan.
As for Khan and his choice of next opponent?  If the end game is to face Mayweather Jr, then he has made the right choice.  The payday and exposure in facing the most powerful fighter in the market would be greater than fighting Brook.  As far as justifying his choice, he made some valid points stating that Algieri beat Provodnikov and other decent fighters and has only lost to Manny Pacquiao, an elite-level fighter.
Six knockdown and a complete shellacking, what a loss it was.
---