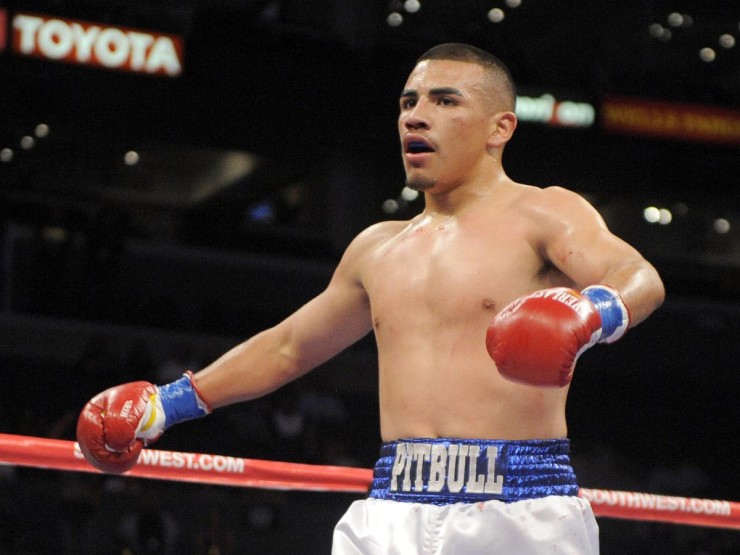 Undefeated Frankie "Pitbull" Gomez (19-0, 13 KOs) of East Los Angeles, California returns to the ring tonight. Gomez will take on journeyman Silverio "Chamaco III" Ortiz (29-16, 15 KOs) of Yucatan, Mexico. The scheduled for 10 round welterweight bout will take place at the Fantasy Springs Resort & Casino Events Center in Indio, California and aired live on Estrella TV. Yesterday Gomez weighed in at 145 and Ortiz 144.
Weight cost Gomez a major opportunity in May 2015. He was scheduled to face former world champion Humberto Soto. The fight was going to be between HBO's tape-delayed coverage of the previous week's Floyd Mayweather-Manny Pacquiao megafight and Saul Alvarez' live main event James Kirlkland in Houston, Texas. Gomez and Soto had an agreed upon weight of 141 pounds. Gomez came in 6½ pounds over that weight. Soto's team was willing to work things out in order to save the fight but Gomez would have to lose some more weight. In the end Gomez team decided that he could not lose any more weight and the fight was cancelled.
Gomez was a highly decorated amateur. It seems like that was years ago but he is only 24 years old. There is a lot of upside for him in his career if can continue on his current path. Ortiz should not present any problems for him but more so give him some much needed rounds to shake off the ring rust. He will travel to the Philippines after his upcoming fight. Gomez has been chosen to be one of Manny Pacquaio's main sparring partners for his upcoming April fight with Timothy Bradley. It will be some quality sparring for sure for Gomez but it should also keep his weight in check working out in the heat in the Philippines. 2016 could be a year of opportunities for Gomez. It will be up to him to take advantage of them.
---