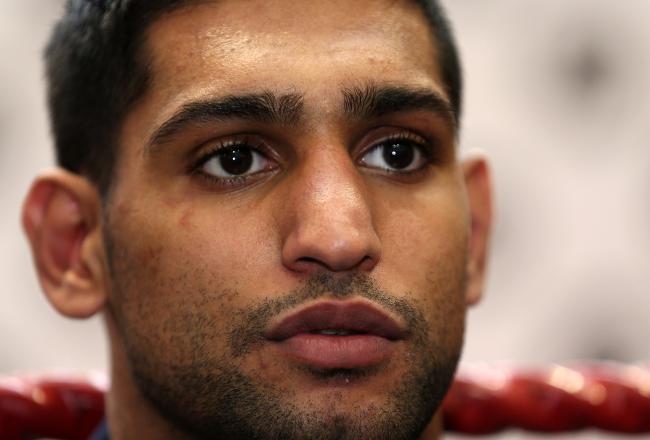 With the first big boxing event of the year scheduled for May when Floyd Mayweather Jr once again steps in between the ropes, no word just yet of who his next opponent might be.  For months, ever since his drubbing of Saul "Canelo" Alvarez last September in Las Vegas, the name of England's Amir "King" Khan has been said in the same breath as "Money" Mayweather's.  Floyd has never said it but Richard Schaeffer, various reporters and Khan himself have been yelling the Brit's name from the mountain tops.
Just this week, Khan stated that he has received a contract from Golden Boy Promotions, promptly signed it and sent it back waiting for the richest man currently in boxing to add his John Hancock to the agreement.  In the same statement, Khan let it known that if Mayweather didn't sign the contract; he was willing to face the other boxing cash cow, the one and only Manny Pacquiao.
First off, unless Khan knows something that we don't, a fight against the Filipino congressman isn't any easier to make than one between Pacquiao and Mayweather.  Khan is heavily entrenched with Golden Boy Promotions and has been ever since he made the leap over the big pond and began to fight in the United States regularly.
With that said, how would a fight between the two play out?
Khan would definitely have the advantage in height and reach and with his quick hands, his speed would be right there with the southpaw "Pacman".  Despite those advantages, it wouldn't be the first time Pacquiao fights an opponent much taller than him.  Pacquiao did not have a problem against De La Hoya who is 5'10" and Margarito who stands 5'11".  Another advantage that Pacquiao has over Khan is the fact that Amir used to train with Roach and even sparred with Manny himself.  If one thing that Roach can do is spot the weaknesses of his prized pupil's opponent and implement the perfect plan to take advantage.
Boxing pundits are in no way interested in a Mayweather vs Khan showdown instead looking towards the newest flavor du jour, Marcos Maidana, to step up and face the pound for pound best.  With Khan's questionable chin, I can't imagine anybody buying into Khan facing the harder hitting Pacquiao.
Pacquiao's next date is set for April 12th and his next opponent has not been announced either.  His next dance partner hasn't been announced either.  Much more disciplined than either Khan or Mayweather in speaking to the press, Pacquiao did not answer Khan's idea of facing each other in the ring.
Maybe he is much more conscious of the cold war between his and Khan's employers or just maybe he is just too busy trying to work out his tax problems.
Whatever the case might be, expect a fight between Mayweather vs Khan to happen and in fact, you might expect a Khan Vs Pacquiao fight to happen much easier than Mayweather vs Pacquiao…
---