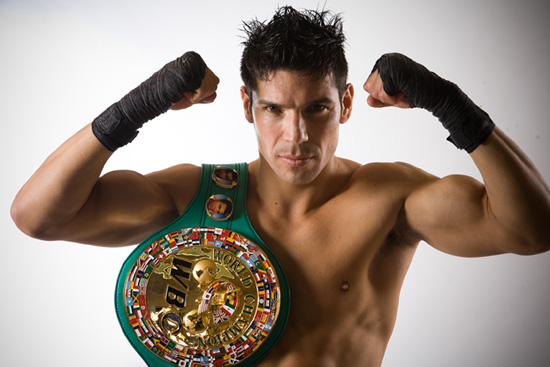 The last two days in the boxing world have brought some major implications for the near future.  One or maybe two of the latest we knew were going to happen.  The first tidbit of information was that after nearly what felt like months of negotiating, Martinez vs Cotto was finally made.  I know that the fight is officially called Cotto-Martinez and that detail was one of the last points being discussed but this scribe will go with tradition and call it how it should be, with the name of the champion first and in this case that is WBC middleweight title holder Sergio "Maravilla" Martinez.  The bout is set for June 7th at the Madison Square Garden in New York City.
Other bullet points that was said to have been discussed was the order of who will be announced first (Martinez), how many tickets each camp would get and other little small details that usually don't hold up a fight from being made.  It seemed that for months either Sampson Lewkowicz, who handles Martinez, or Top Rank's Bob Arum who owns the date with HBO PPV were announcing that that the fight was anywhere from 90% to 95% to 99% down.  This past Thursday the bout, which will be fought at a catch weight of 159 pounds (another negotiation point), was officially made.  In one report, in true Argentinean fashion, claimed it was he that made him happen since he instructed his team to agree to everything just to get the opportunity to get in the ring with the former three divisional champion from Puerto Rico.
The other major news released at the end of the week which will affect quite possibly the biggest PPV of the year was released by no other than British star Amir Khan.  After campaigning for months and even giving up and opportunity to face then IBF champ Devon Alexander last year, Khan finally came to the realization that Floyd Mayweather Jr has been wasting his time and more than likely will face Marcos Maidana on May 3rd at the MGM Grand Arena in Las Vegas.
When Floyd released a poll on his site of who the boxing public wanted him to face next.  After Maidana took an early lead, Khan took to twitter and urged his nearly two million followers to vote for him.  Needless to say, he took the poll but no announcement was made by the Mayweather camp that Khan was indeed his next opponent despite the Englishman of Pakistani descent signed a contract for the fight last December.   However, Mayweather denied that contract came from him or his promotional outfit, Mayweather Promotions.
Khan stated on his twitter feed, "No response from Mayweather or his team.  Fight's not happening.  I should of taken the title fight last December against Alexander…. Very disrespected by his team.  Wasted my time.  Good luck to Maidana against Mayweather.  Apologies to the thousands of people who are let down.  You, me and everyone wanted the Mayweather fight.  He's running scared."
No word yet from Mayweather if in fact he will be facing Marcos Maidana.
---