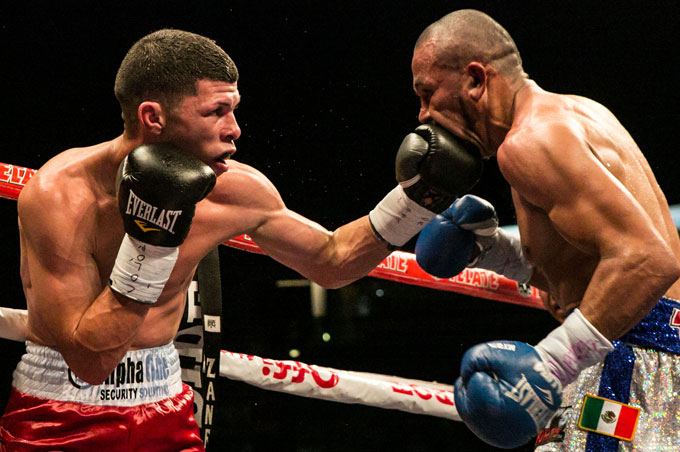 Despite having a fight nearly at his feet for June 4th for the WBC super featherweight title, Mexican veteran Orlando "Siri" Salido has not let go of his running rivalry against Puerto Rican Rocky Martinez. Salido is set to challenge newly crowned champion Francisco "Bandido" Vargas at the StubHub Center in Carson, California, on HBO in an event presented in association between Golden Boy Promotions and Top Rank. Salido did not like the idea Martinez is making plans on facing Vargas after his defense against Miguel Berchelt of his WBO title. Basically the Puerto Rican is saying he fully expects to not only beating Berchelt and Vargas beating Salido.
Salido took full offense.
"If I was Rocky Martinez I would be thinking only about his fight against Miguel Berchelt and stop making plans to fight Vargas who already has a partner for June 4th," Salido said. "Martinez will be facing a young hungry lion in his hometown and Rocky won't have the referee and judges to bail him out in Merida."
Martinez and Salido have a long history with each other which began back in April of last year. That night in San Juan, Puerto Rico, Martinez defended his WBO super featherweight belt with a unanimous decision over the Mexican over twelve rounds.
They faced each other again five months later on the undercard of Floyd Mayweather Jr vs Andre Berto in the city of sin Las Vegas. Many believed with nearly sixty fights under his belt, Salido had seen better days but he was able to battle out a split draw against Martinez in a candidate for fight of the year.
Both wanted the rubber match with Martinez stating only if it would happen in his native island of Puerto Rico. Salido was not too eager to go back to the Caribbean even though his track record there is stellar. Back in 2011 he stopped Juan Manuel Lopez in eight rounds eight rounds in Bayamon and a year later did it again in ten to capture the WBO featherweight title. In three trips to the island, Salido is 2 for three, if he was playing baseball his average would be .666, not bad.
Salido kept pushing for the fight but at the end Martinez will now have to face his mandatory Miguel Berchelt while Salido gets the title shot with Vargas.
Will they meet again?
Salido has been adamant in not wanting to return to Puerto Rico, despite his record there, he feels he gives too much advantage by fighting in the hometown of a Boricua. Salido needs to knock out there to be able to win and now at thirty-five years old, with a lot of mileage after twenty years as a professional and himself going down to the canvas in two of his last three fights, that fact seems unlikely.
Both fighters would have to win their next fights to make the rubber match enticing for boxing fans. Salido would capture the WBC strap with Martinez retaining his WBO belt therefore raising the stakes as well as the purses.
It's a possibility.
---