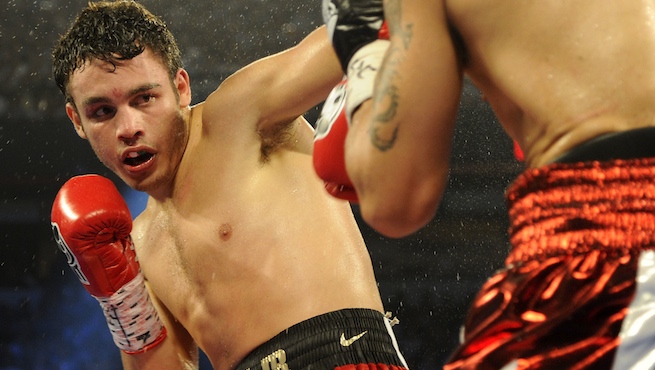 With the major fight week behind us, the boxing world can get back to its regular rotation of Premier Boxing Champions fare, HBO content and the like.  For you to be up to date on the latest news, here is the latest edition of Around The Ring:
Tragic News – In a fight that obviously didn't get a fraction of the major Alvarez-Cotto bout this past Saturday night in Las Vegas, Nicaragua's David "Terry" Acevedo tragically passed away after falling into a coma. Acevedo was knocked out in the last minute of the eighth and final round by Nelson Altimirano when he lost consciousness.  Once at the hospital, Acevedo was operated on but to no avail.  His family mentioned in a statement he lost over ten pounds in twenty-four hours to make weight for the bout.
Sulaiman Talks – Among all the controversy regarding the result of the "Canelo" vs Cotto championship bout, Mauricio Sulaiman, president of the World Boxing Council, has added his two cents. He mentioned he saw Alvarez clearly superior and more accurate with his punches.  With the win, Alvarez captured the WBC middleweight crown being only the second Mexican to do so.  With that said, Sulaiman said he will announce  the status, dates and facts regarding Alvarez's mandatory defense against Gennady "GGG" Golovkin next week.
"El Bandido" Looking for New Prey – Riding the wave of his big win over Takeshi Miura to capture the WBC super featherweight title, Francisco "El Bandido" Vargas says he wants to face the winner of the rematch between Orlando "Siri" Salido and Rocky Martinez. Salido and Martinez have faced each other twice with Martinez taking the first fight and the second ending in a draw.  They are rumored to face each other one more time to end the trilogy.  Vargas said he would prefer to face Martinez so he can be part of a Mexico vs Puerto Rico rivalry.
Reunited – All talk seems to lead to former WBC middleweight champion Julio Cesar Chavez Jr will challenge Badou Jack for the 168-pound title in March of next year. It was rumored perhaps he would go back to Freddie Roach for camp but now he has confirmed he will have Robert Garcia in his corner.  This will be the second fight he will train with Garcia.   The first was against Marco Reyes where they only trained for five weeks.  He is planning to do a twelve week camp this time now that he can go back to using his left hand after surgery.
Two Fights for One – Premier Boxing Champions announced this week they will open their 2016 season with a welterweight match-up between former champions Danny "Swift" Garcia and Robert "Ghost" Guerrero on January 23rd at the Staples Center in Los Angeles. The fight will be broadcast by Fox Sports.  Although the fight makes sense in the ring, we might see more fireworks outside of it with Robert's dad, Ruben Guerrero, and Danny's, Angel Garcia.  Both are pretty vocal as we've seen Garcia in pretty much any fight Danny has fought and Ruben against Mayweather Jr.  Ruben Guerrero went as far as to call "Money" Mayweather Jr a women beater after Mayweather Jr went to prison for domestic violence.
---