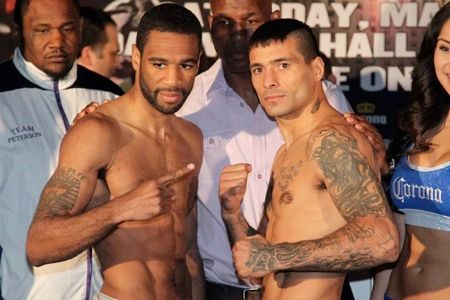 No doubt tonight's fight between Lucas Matthysse and Lamont Peterson looks like a Fight of the Year entry on paper. Matthysse is a pressure fighting power punching machine from Argentina. Peterson is a non-stop pressure fighting body puncher from D.C. When the two men collide, will be the one left standing?

Elie Seckbach of ESnewsReporting.com asked Amir Khan who he favors in the fight. Remember, Khan lost a close decision to Peterson in December of 2011 in an unforgettable fight.
Our prediction:  The fight is going to be won or lost on the inside. Peterson likes to crowd his opponents on the ropes and dig to the body. So does Matthysse. Peterson is not as effective fighting at long range. Matthysse likes to stalk and knock his opponents out in the middle of exchanges at mid to long range. If Peterson is unable to muscle Matthysse on the ropes and get to his body, it could become target practice for Matthysse on the outside. We predict this will happen and Matthysse will show his elite status and knock out Peterson by the tenth round.
What do you think, fight fans? Who wins this soon-to-be  classic?
---