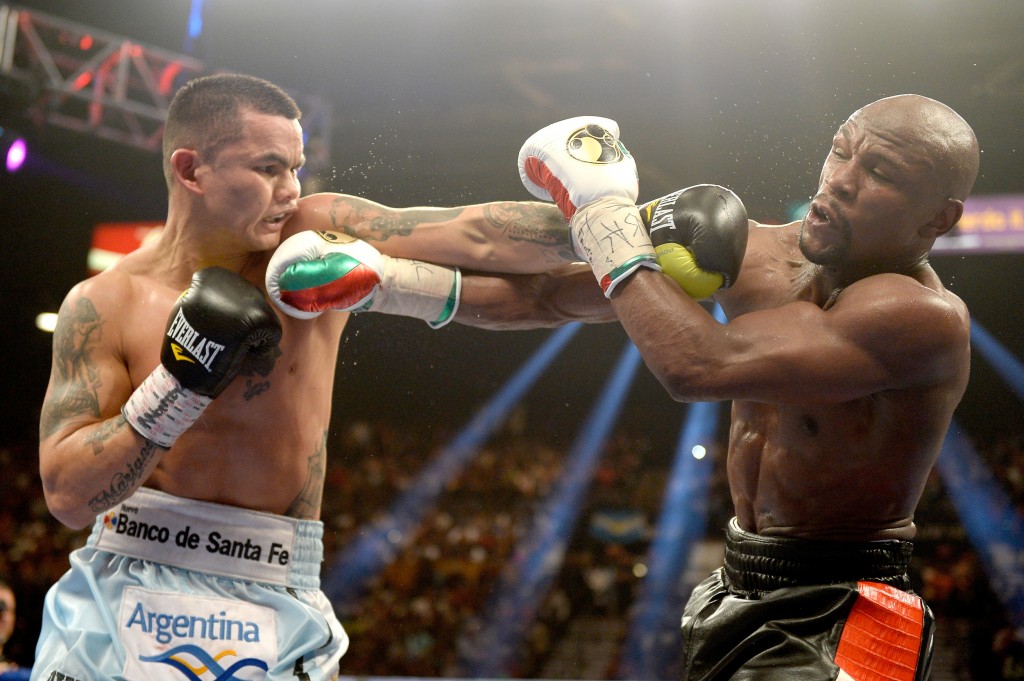 As expected, the considered current pound for pound king of boxing, Floyd Mayweather Jr, announced that on September 13th he will face once again Marcos Maidana of Argentina in a rematch of their early May first fight.  In that twelve round bout for Maidana's WBA and Mayweather's WBC welterweight titles, Maidana of Argentina gave one of the best efforts against Mayweather in years but "Money" was still able to pull it off and earn a majority decision.  Many believe the 114-114 scorecard turned by judge Michael Perrick is not the only reason why the rematch is in the works.
Does Maidana deserve a rematch? That can only be answered by what camp you belong in.  Can Maidana do better than in the first?  Will Maidana be allowed to use a puncher's gloves like he originally intended?  I say the answer to those questions is no except the first one.  Not that Maidana all so much deserves it but might have been the most viable opponent available for Mayweather in September.
After successfully beating Maidana, the most logical choice would be Amir Khan.  Khan was the name floating around the boxing world in late 2013 as the Brit of Pakistani descent kept putting up his case of why he should face Mayweather next.  It went as far as Khan announcing that he signed a contract sent to him but Mayweather quickly refuted that rumor saying that he never sent a contract out to the former junior welterweight champion.  Mayweather took the initiative next and opened up a poll asking who the fans wanted him to face between Khan and Maidana.  Despite Khan pulling off the win in the votes, Mayweather still chose Maidana.  Khan immediately attacked Mayweather in the press saying that he held from fighting Devon Alexander in December because he was promised the Mayweather fight.  As a consolation price, Mayweather invited Khan to fight Luis Collazo on the undercard of his first fight against Maidana.  Khan did and beat Collazo in respectable performance.
So why not Khan for Mayweather in September?
Khan is a devout Muslim.  Every summer for twenty-nine to thirty days the ninth month of the Islamic calendar is celebrated as Ramadan.  Practicing Muslims are expected to fast while the sun is up.  For obvious reasons Khan would not be ready for a September bout if he is not allowed to train for a full thirty days a couple of months prior to the scheduled date.
Other names mentioned for Mayweather's second fight of 2014 were Keith Thurman and Danny Garcia.  Although Garcia is an established champion in the 140lbs division and Keith Thurman is a young and upcoming champion, they need more high-caliber fights to get a bit more traction with the mainstream boxing fan.
Maidana along with trainer Robert Garcia might change his strategy in the second fight but he can only do so much with the God-given talent he was given.  This will mark the first time that Mayweather agrees to a rematch since his two fights against Jose Luis Castillo.  In those fights, many see that Castillo won the first fight although Mayweather claimed a hurt shoulder.  In the second, Mayweather easily defeated Castillo.  We might see that again.
---