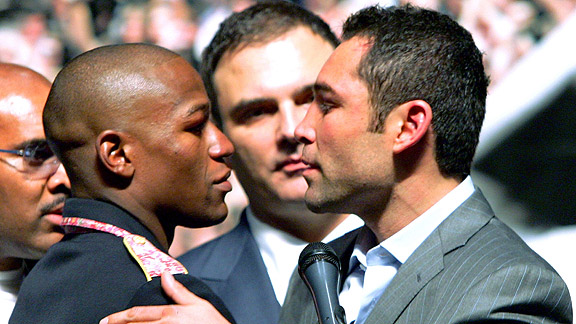 It seemed as if the Golden Boy Promotions internal split between Richard Schaeffer and Oscar De La Hoya finally nudged Floyd Mayweather Jr to get his outfit, Mayweather Promotions, off the ground and do something.  Unlike his hip-hop record label Philty Rich Records that has been dormant since its inception, Mayweather Promotions with its Leonard Ellorbe, its CEO, manning the way has made major moves in the last several weeks. Boxing's most influential recluse, Al Haymon, probably had something to do with it to.
Mayweather Jr has hired Golden Boy Promotions exclusively for several of his most recent fights to handle all the logistics of his mega-events in Las Vegas.  Without a promotional in that state or any other, Mayweather Jr had no choice but look for outside help since his company, which seemed for a long time to be just at logo on hats and warm-up suits, simply didn't have the infrastructure to put on a fight card of the magnitude needed for Mayweather Jr.
It was no secret that there was no love lost between Mayweather Jr and Oscar De La Hoya.  Ever since Mayweather Jr defeated the "Golden Boy" via a split decision back in 2007, things have not been all too amicable between the two with Mayweather Jr stating at press conference that Schaefer was indeed "Golden Boy".  As soon as the Swiss banker announced his departure from the company he ran for the last ten years, Mayweather Jr also announced a couple of hours later that his association with the company was over.  More sane minds prevailed days later when Ellorbe said it was only a joke.
Besides co-promoting without a license a number of his fights, Mayweather Promotions has actually put on events in the state of Washington but just recently they have sought and secured licenses in two out of the three busiest boxing states of the union, New York and Nevada.  Although it can be assumed that his next fight, a rematch against Marcos Maidana set for September 13th in, where else? Las Vegas, Nevada, will be promoted in the same manner as his most recent previous ones with Golden Boy, it would be safe to say that Mayweather Jr is looking to move away from the arrangement and not only promote his own shows, at least in Las Vegas, but other fighters as well as in New York state.
Will this also serve as a front for Al Haymon? That question nearly answers itself.
Oscar De La Hoya recently stated that he is ready to make a bid for the sought after May PPV date next year.  For the last couple of years the May and September months have been all Mayweather Jr with no other fighter daring to go against him.  De La Hoya feels he has the man in Mexican redhead Saul "Canelo" Alvarez who was the B-side last year for the highest-selling fight card of all time along with Mayweather Jr. Since then he has achieved respectable numbers in his own headlining events in March and July.
Let's see what the Mayweather Jr tantrum looks like come May.
---