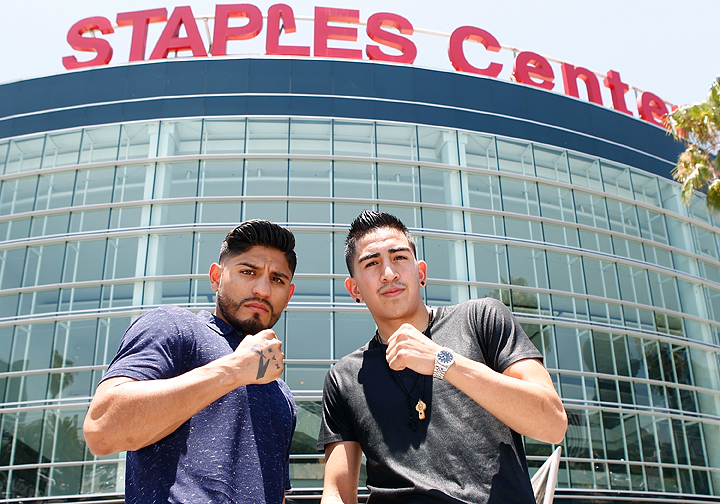 Maybe his methods weren't what everything wanted or expected but at least in the arena of social media, "Sugar" Shane Mosley might have upped the Premier Boxing Champions series.  As everybody should already know, this Saturday night Mosley vs. Mayorga II will be going head to head with Abner Mares vs Leo Santa Cruz not only on television but also in the same city.  While Mosley's fight will be on Pay-Per-View, Mares vs Santa Cruz will be featured on ESPN.  The story here is that despite the Mares vs Santa Cruz fight is the one with more fallout in the present day boxing scene than Mosley-Mayorga, it is the antics for the event at the famous Forum in Los Angeles that has gotten more mentions on the major social networks.
While there is some palatable and genuine animosity between Mares and Santa Cruz, it has been the staged antics between Mosley and Mayorga that people have been eating up.  Obviously it all began with Mayorga and his comments but that is pretty much the status quo for any of his fights.  Mayorga has fought all the big names, from De La Hoya to Trinidad to Fernando Vargas and Mosley himself as much for his pre-fight antics as for what he does inside the ring.
At the first presser to announce the rematch between Mosley and Mayorga, the fighter from Nicaragua pulled one of his classics when he tried to face off Mosley with a cigarette in his mouth and "Sugar" Shane promptly swatted it out of his mouth and then a small altercation broke out.
During that, Santa Cruz and more actively his father, were more actively explaining why they aren't interested in facing Guillermo Rigondeaux than in talking about fighting Mares.  It could be that everything that could be said about Mares and Santa Cruz has been said in the three-plus years it took make the fight.
Famed promoter Don King got into the mix and inadvertently helped Mosley, who is promoting the event under his GoBox company, to promote the fight card when he tried to sue to stop Mayorga from participating in the fight.  King claimed that Mayorga is still under contract with him and he expected some kind of return.  A courthouse in Miami didn't agree and did not stop Mayorga from facing Mosley this Saturday night.
The last of the antics went down just a couple days ago when Mayorga slapped the behind of Mosley's girlfriend in the last presser before the fight.  Obviously Mosley lunged towards Mayorga and the girlfriend threw a shoe and a belt.  Mayorga was even offered an extra $10,000 if he would just stand there and let her punch him for five minutes straight.  What Mosley and company didn't expect was for Mayorga to go on his social network accounts and disclose that he was asked by Mosley to do the vulgar act to garner attention and sell the Pay-Per-View.
The move might not sell an exceptional number of PPVs but it at least outshone the other fight on fight week.
---