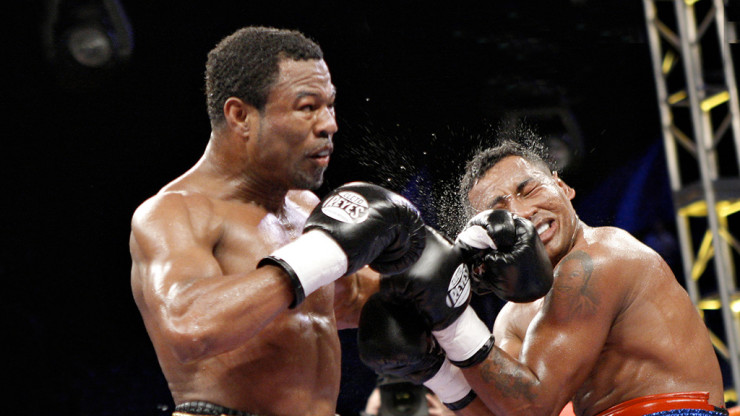 The rematch between Sugar Shane Mosley (47-9-1, 39 KOs) and Ricardo Mayorga  (31-8-1, 25  KOs) has been a hot topic of late in the social media networks. In fact this is where the fight actually drew up enough interest to be made. They will officially clash on August 29th at the historic Forum in Inglewood, California. The bout will be on pay per view and going by the current rate of interest by the public could be a successful one.
The two originally fought nearly 7 years ago. The emphatic ending of Mosley knocking out Mayorga is well remembered. Lost in the thrilling ending was that officially it was anybody's fight going in the 12th and final round. Mayorga surprised many by competing well with Mosely up until the very end. Mayorga is actually more skilled than he gets credit for. It's not pretty but it works for him.
Based on how competitive the first fight was it is kind of surprising that the rematch never materialized soon after their first fight. Mosley went on to land boxing's mega fights against Floyd Mayweather Jr., and  Manny Pacquaio. However, it was Mosley's fight after defeating Mayorga that stands as his biggest victory since that Mayorga fight. He took on Antonio Margarito in January 2009 at the Staples Center in Los Angeles, California. Mosley entered the bout as an underdog as Margarito was at the top of his game at that time. Mosley completely dominated Margarito and became the first to stop him as a professional. Mosley also showed a another strength of his that night. Fan support. His fight with Margarito to this date is still a Staples Center attendance record. Keep in mind that this is the same building that is home to the Los Angeles Lakers and during a stretch where they won multiple  world titles before and after Mosley-Margarito. Names such as Shaquille O'Neal and Kobe Bryant were on the rosters to put this record in perspective.
Mayorga would go on to actually challenge for a world title even though he lost to Mosley. He challenged Miguel Cotto for the WBA Super Welterweight title back in 2011. Mayorga again surprised many with his ability to box with the much more skilled Cotto. The bout came to an abrupt ending in the 12th and final round when Mayorga could not continue due to an arm injury he suffered as he was knocked down by Cotto in the process. Mayorga actually fought twice in 2014 albeit against weak opposition but activity none the less.
The venue for this fight is not far from the Staples Center. There really is no reason to believe attendance will not do well for this fight. The tickets are very reasonable and the buzz on the social media networks has not really tailed off about the fight. Those concerned about the fighters being in there 40's need not to worry as power as they say is the last thing to go on a fighter. Aside from that there styles will not allow for the fight to be boring or have many lulls in the action. This could actually be a fight where win or lose they each could move on to get a significant fight just as was the case after their first fight.
---