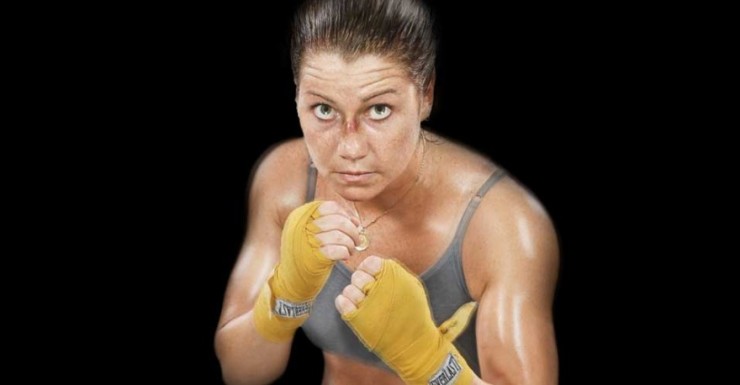 If the upcoming Mosley vs. Mayorga II Pay-Per-View was headed towards disaster it might have put together a redeeming aspect to it.  It was announced early this week that Mosley will feature a female IBF featherweight title fight when Maureen Shea challenges champion Yulihan Avila in a scheduled ten rounder.
There is no gimmick here.  In a press release, Mosley says that he is pretty upset the way that MMA respects their female fighters more than boxing does, pointing out that the UFC bantamweight champion Ronda Rousey is one of the biggest stars in the sport.
This won't be the first time that women are featured in a PPV.  Back in the 90s Top Rank and Don King used to feature the "Coalminer's Daughter" Christy Martin and Mia St. John on their broadcast but for the most part the female fight was used as a gimmick.  Martin was a pretty good brawler but back then the talent pool wasn't all that deep while Mia St. John was known more for baring it all in Playboy than for her boxing skills.
Ten to fifteen years later, female boxing has grown as far as talent is concerned but has really lost its popularity in the United States.  Female boxing is still pretty big in Mexico and the rest of South America as well as Europe and Japan but after being featured on PPV and even on ESPN during the 90s, it really has taken huge steps back in America.
"It's an embarrassment to boxing that UFC and MMA show more respect to their women fighters than the boxing world does, and it's about time we caught up," Mosley stated.  "I just hope the community gets behind me in this decision by buying the PPV and coming out to support at the Forum live."
Will the female fight sell some tickets?
If boxing is a niche sport, female boxing is the niche within the niche and there will be some fans that will go to the fight card or buy the event on PPV on the strength of the female fight but Mosley might be wishing a bit too much if he still thinks that his event will still beat the event going on in downtown Los Angeles.
In case you didn't know, the same night on August 29th, former champs Abner Mares and Leo Santa Cruz face each other at the Staples Center and live on ESPN as part of the Premier Boxing Champions series.
In Shea and Avila, Mosley has a pretty good fight in his hands.  Shea trained Hillary Swank for the actress' role in the major motion picture "Million Dollar Baby".  She holds a number of all-female titles and at thirty-five years old, she will be facing a much younger Avila who is only twenty-one.  In her last fight, Avila traveled south to Argentina and captured the vacant belt with a unanimous decision.
This might be the fight of the night from the LA Forum.
---