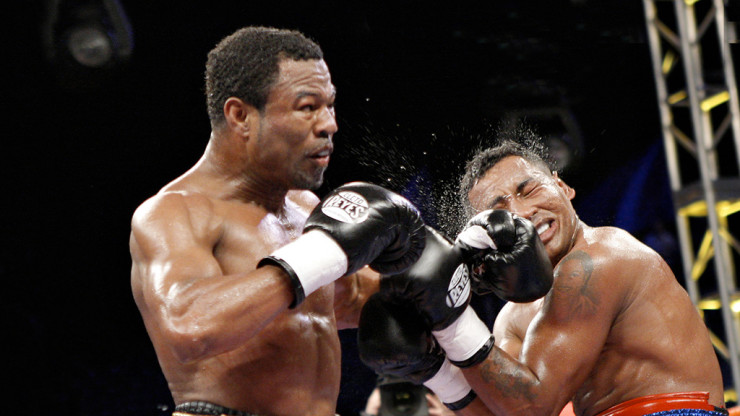 So what are we doing here?  On Saturday, August 29th, on Pay-Per-View no less, we will have the rematch between "Sugar" Shane Mosley and Ricardo Mayorga from the renovated LA Forum in Los Angeles, CA. In their first face-off Mosley stopped Mayorga in the 12th and final round.  Why a rematch?  Because apparently everybody needs to make a paycheck.
Since their first fight Mosley has not really performed as the hall of famer he surely is.  In his fight immediately after, he destroyed Antonio Margarito in one of his best performances but then lost to Floyd Mayweather Jr despite hurting him in the second.  A draw against Sergio Mora followed then two straight losses, the first to Manny Pacquiao and the next to Saul "Canelo" Alvarez.  He beat Pablo Cesar Cano to prove he is somewhat relevant but after pulling out from the first date because of money issues, he finally faced Australian Anthony Mundine and was stopped in the seventh in his last fight in November of 2013.  It was expected that Mosley was retired but money troubles have forced him to come back.
Everybody that is interested in boxing knows who Ricardo Mayorga is. Known for the insults he showers on his opponents more than his technical skill, Mayorga has made quite a career, and the paycheck that comes with it, for himself.  He has faced everybody.  Since the then pound for pound king Vernon Forrest twice in 2003, Mayorga has faced the best of the division he might find himself, anywhere from welter to middleweight.  He's lost to the likes of Cory Spinks, Tito Trinidad, Oscar De La Hoya and Miguel Cotto since those Forrest wins but also beat Fernando Vargas.  The common denominator for all those events is the way Mayorga entertained us with his dirty and insult heavy banter directed to his opponents.  A quick YouTube search of Mayorga press conference uncovers a treasure trove of material.
After losing to Cotto in 2011, Mayorga has only fought twice since then picking up two wins over marginal unknown opponents.
The interesting thing in the buildup to Mosley-Mayorga II, which is in full swing now, is that Mosley's antics are as bad as Mayorga's.  Mosley has always been confident of himself and proud of his achievements but had really never gone over the edge in his comments.  Now through social media, mostly Twitter, he has gone over the deep end insulting not only his opponent but Floyd Mayweather Jr's fight with Andre Berto a couple weeks after his and the Abner Mares vs Leo Santa Cruz fight scheduled for the same night at the Staples Center. He even went as far as to call out all those that accused of his recent scruff with Mayorga at their kick-off press conference as staged.
Things can only get worse as the numbers of the proposed PPV stagnate which is more than likely what is going to happen.  The forty-four year old Mosley, who is reportedly financing this venture himself, can only go crazier as he sees his money going down the toilet.
He might take a bigger hit than in he did in his divorce.
---