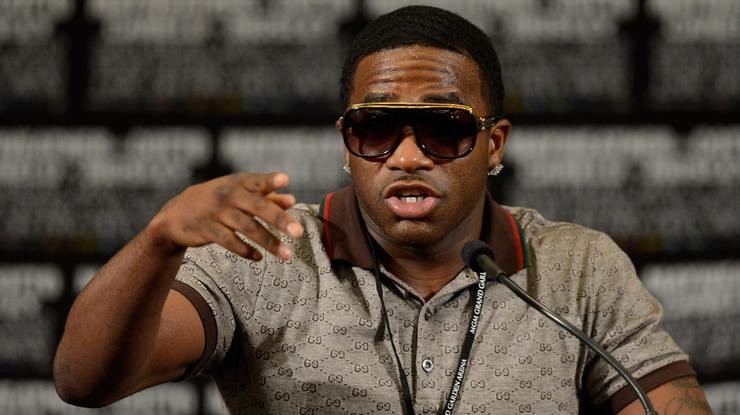 If there is one thing about Adrien "The Problem" Broner is that he is Adrien Broner.  It doesn't seem he kowtows to anybody, even his big bro Floyd Mayweather Jr.  After throwing some change in the air at Walmart some weeks ago, Mayweather Jr actually came out with some disparaging remarks towards his "little bro".  In typical Broner fashion, "The Problem" responded in kind.  He came out on the scene as a rawer, much greener version Mayweather Jr. Flashy inside and outside the ring; the twenty-six year old young man quickly captured four titles titles in as many divisions with good wins over good fighters. This Friday night Broner defends his WBA super lightweight title against Brit Ashley Theophane on Spike TV from the DC Armory in Washington, D. C.
That is unless he is not behind bars before.
Broner captured his first title in 2011 when he stopped Vicente Rodriguez for the vacant WBO 130 pound title.  After failing to make weight in his second defense of that strap, Broner went up to lightweight to stop Antonio DeMarco in eight to capture the WBC belt.  In 2013 he faced Paulie Malignaggi for the WBA welterweight title which he captured with a twelve round split decision.  He lost it to Marcos Maidana in his next fight and the first loss of his career.  Last year Porter suffered his second loss, this time a unanimous decision to Shawn Porter.  Surprisingly in his next fight back in October he was given the opportunity to fight for the vacant WBA super lightweight title against Khabib Allakhverdiev who he defeated via a twelfth round TKO.
As interesting as his run for his multiple titles are his runnings with the law.  His latest was last week when a warrant was issued for his arrest in his hometown of Cincinnati, OH, for aggravated assault.     Broner is accused of beating a man with a hand gun after robbing him in the parking of a bowling alley.  Allegedly Broner was gambling with the man while bowling and had lost a considerable amount of money to him.  Broner allegedly attacked him outside the establishment and took the money he had lost.  As of this post, he has not been arrested and by the looks of it, his title fight this weekend is not in jeopardy.
This incident is not his first with the police.
Arrests from assault and battery in Florida to carrying a concealed weapon in his hometown state of Ohio. By the looks like his crime of choice is assault and battery since he was arrested for it as young as eighteen years old.  Most of the times he has been arrested, the charges has been dropped, dismissed or he has been acquitted so he is either a misunderstood youth or has very good lawyers on his side.
Broner has emerged as one of the most charismatic fighters in the scene with hundreds of thousands of followers of his social media accounts to see what he will do next.  From acting up at a Walmart to promoting his floundering rap career, Broner lives on his Instagram account.  Hopefully he realizes he won't have that luxury if he ends up a guest of Ohio because of his more dangerous antics.
---