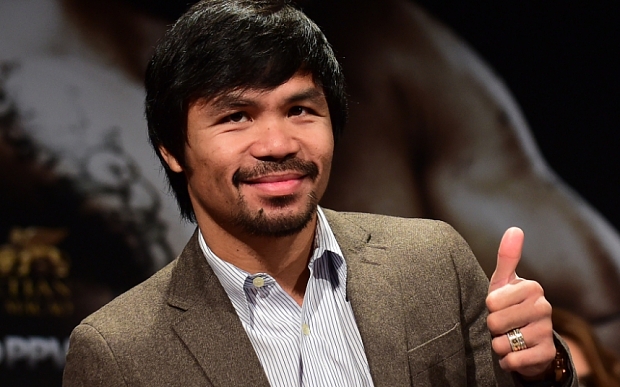 We all expected that by now we would be lamenting the fact that Manny Pacquiao would be facing Timothy Bradley Jr for the third time in April of 2016.  In case you haven't heard, Manny Pacquiao, the recognized fighter of the last decade, the Filipino super star, one of the biggest names in the sport for the last fifteen years, is retiring.  After his disappointing loss last May where he went twelve lackluster rounds with arch nemesis Floyd Mayweather Jr in the biggest fight in the history of the sport, Pacquiao will perform one more time inside a ring before riding into the south Asian sunset into a life in politics.
The question is, who is he going to face?
Ever since it was announced in late October Pacquiao had one more fight to go, the front runner was Terence Crawford from Omaha, Nebraska, but now it was announced he will be defending his WBO junior welterweight title in February.  Obviously Amir Khan is also in the conversation because according to him, he is in line to face any of the big names in the sport be it Pacquiao, Floyd Mayweather Jr, Saul "Canelo" Alvarez, etc, etc.
Just a little over a week ago, Manny Pacquiao was supposed to announce during a TruTV televised Top Rank fight card his next opponent but he promptly shared, through a spokesperson, that he was not ready to reveal who he will be facing across the ring in his next fight.
Now in a new name has emerged as a possible opponent for the "Pacman".
Current WBA super lightweight champion Adrien "The Problem" Broner announced he received a call from Pacquiao advisor Michael Koncz about a possible match-up against Pacquiao.  Broner seems to be all for it stating he loves to face southpaws having beaten a number of them including Khabib Allakhverdiev in his last fight, Antonio DeMarco to capture the WBC lightweight title and Daniel Ponce De Leon back at featherweight.
Seems strange Broner would be considered as an opponent.  Obviously the first and biggest obstacle to make the fight is the non-relationship between Top Rank's Bob Arum, who handles Pacquiao, and Al Haymon, who takes care of Broner.  Still, that has not stopped them before since Pacquiao faced Mayweather Jr, another of Haymon's clients.
That fight took five years to make.
It is believed one of the reasons Crawford was taken out of the running was because he was quite possibly too much of a risk for the thirty-seven year old Pacquiao.  That might be the case with Broner as well.  Yes, Broner suffered his second loss this year with a unanimous tilt for Shawn Porter and he was exposed by Marcos Maidana a couple of years ago but he is still only twenty-six years old, talented and a champion in four divisions.
No word yet when Pacquiao will actually announce a new opponent.  If Broner is stating he just got the call and if he is a legitimate option for Pacquiao, then we might be some time away from an official announcement.
---