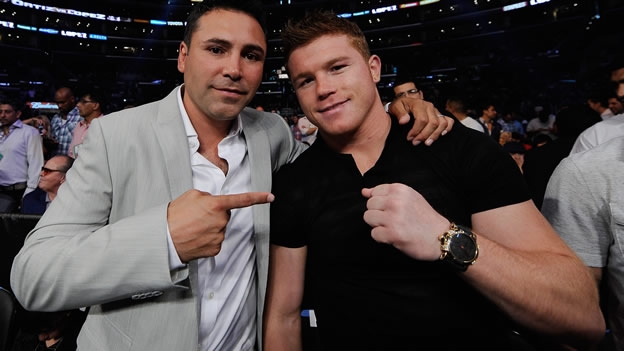 After all the recent hoopla to announce Saul "Canelo" Alvarez's move back to HBO, including a day long field trip at the New York offices of the influential network by the Mexican star and his chaperone Oscar De La Hoya, the air was let out of the balloon this past Monday when it was announced in a brief press release by Golden Boy Promotions that due to an persistent ankle injury "Canelo" Alvarez will not be performing on December 6th as scheduled.  The proposed opponent, although never official, was former IBF welterweight champion Joshua "Grandmaster" Clottey.
Not many in the boxing world, from fans to media pundits, believe the excuse given.  Many believe Golden Boy Promotions as well as Team Canelo came up with the excuse to save face after all the noise made for their return to HBO.  It seems that the possible fight abounded with problems.
The first issue was the venue.  According to a press release distributed by Leija Battah Promotions, who partners up with Golden Boy in many Lone Star State fight cards, the bout was originally slated for San Antonio, Texas, that option was quickly discarded after the venue, the Alamadome, was reserved for a possible college football conference championship game.  The catch is that the UTSA Roadrunners who have first dibs at the site could not make the playoffs and the venue being open but that is too big of a risk to take in a promotion of this magnitude.
The other factor might have been Clottey himself.  After mentioning champ Demetrius "Boo Boo" Andrade and James "Mandingo Warrior" Kirkland, they finally settled on Clottey although it was never made official.  In a twitter post after the fight cancellation the thirty-seven year old Clottey mentioned that he did not get offered nearly what he wanted for the fight but that he accepted it since he felt confident in beating Alvarez.
The prevailing reason that everybody believes of why the fight was eventually cancelled was perhaps the powers that be did not want to risk a potential mega fight against Miguel Cotto slated for May of 2015.  Both Golden Boy Promotions and "Canelo" Alvarez have a lot riding on that potential big event.  All involved are planning on doing a hostile takeover of the predominant Mexican dates of Cinco de Mayo and September 16th at the moment monopolized by Floyd Mayweather Jr himself.
Ever since 2007 Mayweather Jr has performed on those dates scheduling Mexican fighters on the undercard of his Pay-Per-View to capitalize on the vast Mexican boxing audience.  According to Golden boy, "Canelo" and now HBO, they are tired of it.  Alvarez has embarked on a recent crusade to tell all those that would listen that he is more than willing to take back those dates for the Mexican people just like those that had them before like Julio Cesar Chavez Sr and Oscar De La Hoya.  To make it happen he needs to face another well selling star and that is Miguel Cotto.  Joshua Clottey could have ruined all those plans.
Good thing somebody came to their senses and hurt his ankle.
---