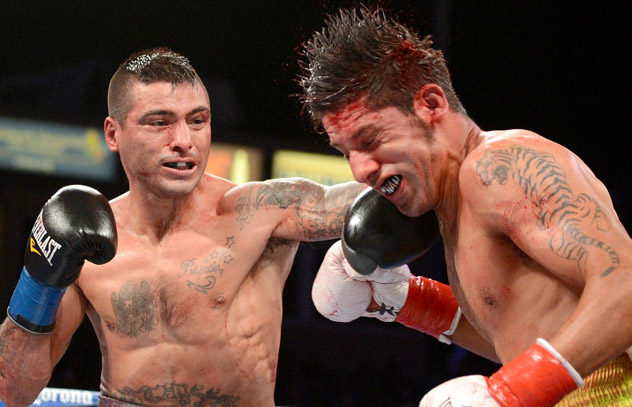 In the last Boxing 360 blog we began our list of the best fights of 2014.  Listed at #5 was the come from behind win of Chris Algieri over Ruslan Provodnikov while #4 was the awesome brawl between Robert Guerrero and Japanese kamikaze Yoshihiro Kamegai.  In this edition we are going to name the next two.  Enjoy!
3. Francisco "Chihuas" Rodriguez (16-2-1, 11KO) vs Katsinari Takayama (27-7, 10KO), Monterrey Arena, Monterrey, Mexico, August 9th.  The little guys hardly get any respect but Rodriguez and Takayama, fighting in a unification bout for the IBF and WBO strawweight titles, not only earned their due respect but won over some fans in the process.  Takayama began the fight well using his mobility to move around Rodriguez while scoring quick punches to the body and head but Rodriguez began to nullify that with a hard right hook that send Takayama down to the canvas in the third.  From that point on it was an all-out war with almost non-stop exchanges with Rodriguez, in front of a hometown crowd of ten thousand, finished stronger to capture both titles.  Since that fight, Rodriguez had trouble making weight and fought to a draw against unheralded Jomar Fajardo. Rodriguez has vacated his titles to look for wins in the junior flyweight division giving Takayama to fight for the vacant IBF an WBO 105 lbs titles against fellow Japanese Go Odaira at the end of this year.
2. Lucas "The Machine" Matthysse (36-3, 34KO) vs John Molina (27-5, 22KO), Stub Hub Center, Carson, California, April 26th.  Like many best fights of the year throughout the years, it is almost when you pit a brawler vs brawler and this fight was no exception.  Neither man is known for his boxing skills.  Both fighters were coming disappointing losses which made it an almost do or die fight for either fighter.  Matthysse was coming off his loss to Danny Garcia in one of the most anticipated fights in recent memory while Molina Jr was stopped by Antonio DeMarco in the first minute of his title challenge before mounting one of the best come from behind wins when he stopped Mickey Bey in the last round.  Molina Jr displayed that power against Matthysse when he landed a right hook in the third that sent Matthysse down to the canvas for only the second time in his career.  By then Matthysse had a nasty gash over the left eye from an accidental head butt. Huge exchanges continued from both but Molina Jr sent Matthysse to the canvas again in the fifth in a fight that looked on the road to a huge upset.  Matthysse showed his heart and began to close the gap on the power punches and turned the tide of the fight sending Molina Jr down in the 8th, 10th and finally for the last time in the 11th.  Since the fight Matthysse went on to stop Mexican Roberto Ortiz in two while Molina Jr dropped a unanimous decision to veteran Humberto Soto.  It is rumored that Matthysse wants to face Broner next while Molina is simply looking for a win.
In the next Boxing 360 blog we will reveal our best fight of the year 2014.
---